Choose from 4 Self Storage Facilities in Prince George
Select Location:
First Ave
Versatile Place
Hart Highway
Hartway Drive
Gate Hours
Monday - Friday 8am – 4:15pm, Saturday 9am to 2pm
Office Hours
Monday - Friday 8am – 4:30pm, Saturday 9am to 2pm
Facility Address
1877 - 1st Ave, Prince George, BC V2L 2Y8
Contact Phone
Facility Address
1877 - 1st Ave, Prince George, BC V2L 2Y8
Facility Information
Office Hours
Monday - Friday 8am – 4:30pm, Saturday 9am to 2pm
Gate Hours
Monday - Friday 8am – 4:15pm, Saturday 9am to 2pm
Testimonials
Annie S. Ferguson
Versatile Place
Gerry Dombrowski
First Ave
Mental Health Advocacy * * It's The Way It Walks
First Ave
Sherri Bickerton
First Ave
Keith Schultz
Versatile Place
Colleen Murnaghan
First Ave
Mark Trottier
Hartway Drive
,Janice Kelly
Hartway Drive
What's Near our Prince George Facilities?
Our self-storage facilities in Prince George are located on First Ave, Versatile Place, Hart Highway, and Hartway Drive. All our facility locations are conveniently located near local communities. As a result, they are frequently used by families, businesses, restoration companies, contractors, and individuals residing in nearby neighbourhoods and areas in Prince George, BC.
Our First Ave location is close to most businesses and not far from the city center. For this reason, we have plenty of clientele who use our on-site self-storage containers for extra inventory and business storage needs. We also have customers who utilize our units for personal storage when they are moving houses or need a safe place to store their extra belongings from their homes.
24/7 Video Surveillance
Security is one of our top priorities! For this reason, all of our Prince George storage facilities are fully gated and monitored at all times to ensure the safety of our self-storage units. In addition, we have around-the-clock 24/7 video surveillance at each of our fully gated facilities to provide our customers with peace of mind knowing that their belongings are safe and secure.
Accessibility
Our storage lockers in Prince George are drive-up storage lockers which provide easy access for loading and unloading right from the back of your car or vehicle. This type of storage unit is ideal for transferring large, heavy, or bulky items from a car to a storage locker quickly and smoothly without having to carry them long distances. Customers can access their self-storage units during gated hours at our facilities. Our Prince George self-storage facilities gate hours are Monday - Sunday from 6:00 AM to 8:00 PM.
Heated Units
Our Prince George heated storage units are located inside our climate-controlled facility. They are designed to maintain a constant temperature, preventing your belongings from being damaged by intense heat or cold. If you are looking for an inexpensive storage solution to keep your belongings safe and sound, even in extreme temperatures, then a heated storage unit is the way to go. So whether you are storing invaluable artwork or fragile electronics, a heated storage locker will help to protect your belongings from temperature changes which could cause your items to become harmed or warped.
Sizes
We have multiple sizes of self-storage lockers and on-site storage containers at our facilities in Prince George, British Columbia. Our First Ave location has quite a few different on-site containers at the facility. Our Versatile Place facility has numerous heated storage lockers, including a vast selection of small, medium, and large storage locker sizes. Our Hart Highway and Hartway Drive locations have various sizes of on-site containers, heated storage lockers, and drive-up storage units, including 10X10 storage lockers and 20-foot & 40-foot storage containers.
About Our Storage Lockers and On-Site Containers
Our Make Space Storage Prince George storage units create budget-friendly solutions for many families, individuals, contractors, and local businesses who need flexible and accessible storage solutions near them. Here are some examples of the different storage needs that our storage units need frequently meet:
Secure storage for homeowners who are buying, selling, or moving homes

Safe storage spaces for furniture, books, decorations, and belongings

Storage for inventory, office supplies, small tools and equipment for businesses and contractors

Summer storage for items such as bikes, beach things, camping gear, gardening tools and furniture

Winter storage for your items such as shovels, snowboards, skis, and snow tires
Whatever your needs, we have affordable self-storage lockers, on-site containers and parking spaces at our secure self-storage facility.
Does your local business need somewhere to keep extra inventory and equipment? You should consider keeping your products, documents, tools, and small equipment in our storage lockers. If you have decorations and other seasonal things for your business, keeping them nearby is a fantastic way to optimize your work environment and office space. Utilizing self-storage in Prince George, BC, helps you save space, time, and energy throughout your industry's busy and slower seasons.
Are you looking for a suitable moving storage solution for homeowners? Our various storage lockers are ideal for people needing to store their personal possessions while their home is being staged and in the process of preparing for viewings or open houses. In addition, for those buying or selling a home, using our storage units can help save time and simplify your process while you are between your old home's closing date and the new house's possession date.
Is your residence running out of space and getting cluttered with all of your items? Using one of our storage units can help you declutter your living space without throwing away any cherished possessions. You can keep your extra furniture, books, picture frames, seasonal items, suitcases, clothes, yard tools, and anything that takes up precious room in your spare bedroom, home office, or basement.
Does your company need affordable storage for tools, small equipment or supplies? Our containers are ideal for industrial, construction, renovation and contracting companies looking for safe and secure storage. If your business is short on space, consider using our storage lockers for your extra supplies and seasonal commercial storage.
Do you want to see what our Prince George locations look like? Then, scroll up to take a look inside our facilities and the storage features they have to offer.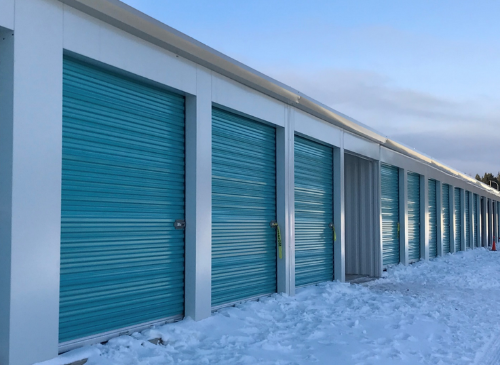 Storage Services
Our company provides a wide range of storage and moving services in Prince George. We have affordable storage solutions near you which are ideal for local businesses and individuals, from portable storage containers to online packing supplies. Here are some examples of our trusted storage services:
Drive-up storage units with easy access for loading and unloading

Indoor storage lockers located inside our climate-controlled heated storage facilities

On-site storage containers at all our facilities

Portable storage containers ready for delivery to your desired address

Packing supplies available at our online store for both your moving and storage needs

Parking spaces for your boats or RVs at our Hartway Drive and Hart Highway locations
If you have questions about our self-storage and portable storage services, please contact us today to discover more about our budget-friendly storage unit prices at our storage facilities in Prince George, BC.