Self-Storage Units in Windsor
Gate Hours
6:00am to 9:00pm Everyday
Office Hours
9:00am to 5:00pm Tuesday - Friday, 9:00am to 1:00pm Saturday
Facility Address
694 Cameron Ave, Windsor, ON N9B 1Z1, Canada
Contact Phone
Facility Address
694 Cameron Ave, Windsor, ON N9B 1Z1, Canada
Facility Information
Office Hours
9:00am to 5:00pm Tuesday - Friday, 9:00am to 1:00pm Saturday
Gate Hours
6:00am to 9:00pm Everyday
Available Storage Units in Windsor
5X5
Online Rate From
$77/month
5X5
Online Rate From
$96/month
2ND MONTH FREE*
5X10
Online Rate From
$134/month
2ND MONTH FREE*
5X10
Online Rate From
$134/month
2ND MONTH FREE*
5X15
Online Rate From
$155/month
2ND MONTH FREE*
10X10
Online Rate From
$181/month
2ND MONTH FREE*
10X10
Online Rate From
$181/month
2ND MONTH FREE*
10X15
Online Rate From
$211/month
2ND MONTH FREE*
10X20
Online Rate From
$238/month
2ND MONTH FREE*
5X15
Online Rate From
$170/month
5X5
10X15
10X20
10X25
10X25
10X30
10X30
5X30
8X20
*Monthly rate is based on a 28-day billing cycle. 2nd Month Free offer is only available on select units and is subject to availability. Minimum four weeks rental required.
Testimonials
Alexandrina Munro
Windsor
What's Near Our Windsor Facility?
Looking for storage solutions near you in Windsor? Make Space Storage Windsor located in the west end of Windsor, is just a few kilometres from the downtown core. You can find our location just off Wyandotte St West, on Cameron Ave. Conveniently located near Ceasers Casino and just down the road from the University of Windsor. Our versatile facility caters to a wide range of surrounding customers, given that our location is local to many small businesses, commercial companies, families and students.
24/7 Video Surveillance
Safety is a top priority regarding our storage lockers in Windsor. Our facility is fully gated and is equipped with 24/7 video surveillance to ensure your belongings are safe and secure. To enter the facility grounds, you will need to enter the access code given to you when you secure a unit into the keypad. We also have on-site managers monitoring the facility Monday to Friday and to provide our customers with assistance if needed.
Accessibility
Our storage units in Windsor are accessible by keypad entry every day (Sunday-Saturday) from 6:00am to 9:00pm.
The fully gated facility is located off Street NW in Windsor, Ontario. Our indoor storage lockers have spacious laneways to ensure our customers have no problem maneuvering belongings in and out. Drive-up units are also available for easier loading and unloading of heavier, bulky items - drive your vehicle directly up to your locker to unload your items.
The Most Affordable Storage
Make Space Storage always offers affordable storage units regardless of your storage needs. Whether you are looking to rent multiple lockers or one small unit, we guarantee the best storage unit prices around with our cheap storage units in Windsor. Often we see business owners scrambling to find an affordable storage option until they decide to rent a storage unit. Avoid the hassle of finding an extra warehouse space or expanding your store's storage capacities by renting a storage unit from us. Contact us today and request a quote tailored to your Windsor self-storage needs.
Sizes
This facility is equipped with various sizes to accommodate everyone's self-storage needs. Whether you are storing a few items or a 3-bedroom house, we have sizes ranging from 5x5 ft to 10x25 ft units to fit your storage requirements. Not sure what size will work for you? Give us a call, and one of our customer service experts would love to provide recommendations on what size is best.
About Our Storage Lockers
Our storage facility in Windsor's City center is an excellent option for local businesses and residents needing extra storage space. Many of our customers at Make Space Storage Windsor use our storage lockers to store:
Inventory, supplies and seasonal furnishings from local small to medium-sized businesses

Furniture and belongings during the summer months for students who sublet their student housing

Extra belongings that do not fit in a first-year students residence/dorm room

Household items when staging a home to sell or in-between a move

Seasonal toys, equipment, tools and gear during the summer and winter months

Supplies, tools and equipment for local renovators and contractors

Spare room boxes, seasonal decor, bikes and more for those living in surrounding apartment buildings with limited space
Whatever your storage needs are, our Windsor storage facility has a solution for you.
Since we offer unbeatable prices and a 10% discount, many students choose to store their belongings with us during the summer months or during the school year when their accommodations have limited storage space. Students travel from all over to attend the University of Windsor and do not want to leave a lot of their belongings behind. Affordable storage is necessary for these students who need extra space. Make sure to mention that you are a student to our customer service team when reserving a unit this school year.
Our Windsor storage units are popular for local independent contractors, renovators, home builders and general labourers looking for safe and secure self-storage for expensive tools, supplies and equipment. Instead of using a garage or truck to store these items, renting a storage locker is a great way to keep your tools safely. Back your vehicle up to your unit for easy unloading and loading.
Do you live in an apartment with limited storage space? Many of our customers live nearby in one of the many surrounding apartment buildings and are often left without suitable storage space to store their belongings. Our wide range of sizes allows these customers to determine the most appropriate size necessary to store their belongings nearby for easy access throughout the year.
Are you moving but do not take possession of your new home right away? We see a lot of local residents choosing to store the content from their home in one or two storage lockers until their move-in date. This is an excellent option for people staying at a friend or family member's house or in a rental property during this in-between period.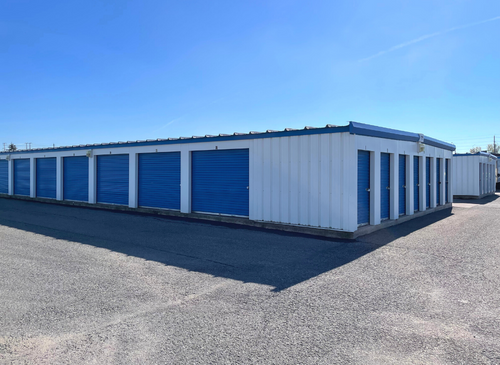 Storage Services
Our self-storage facility in Windsor, Ontario, has a wide range of moving and storage services to cover your storage needs.
Secure indoor storage units inside our storage building

Drive-up easy-access storage lockers

Convenient portable storage containers for residential and commercial storage

Affordable RV and boat parking inside our facility grounds

Packing supplies for moving and storage needs
Make Space Storage Windsor is a one-stop-shop for all things moving and storage. Trust us to provide exceptional customer service, secure storage solutions and reliable portable storage delivery.
Click here to view our portable storage containers, RV/boat parking or packing supplies.