Self-Storage Units in Kitchener
Office Hours
Tuesday - Saturday 8:30am - 4:30pm
Facility Address
171 Webster Rd Kitchener, ON N2C 2E7
Contact Phone
Facility Address
171 Webster Rd Kitchener, ON N2C 2E7
Facility Information
Office Hours
Tuesday - Saturday 8:30am - 4:30pm
Available Storage Units in Kitchener
5X5
Climate Controlled
Indoor
Online Rate From
$89/month
2ND MONTH FREE*
5X10
Climate Controlled
Indoor
Online Rate From
$149/month
2ND MONTH FREE*
10X10
Climate Controlled
Indoor
Online Rate From
$227/month
2ND MONTH FREE*
10X15
Climate Controlled
Indoor
Online Rate From
$273/month
2ND MONTH FREE*
8X20
Climate Controlled
Indoor
Online Rate From
$319/month
2ND MONTH FREE*
10X20
Climate Controlled
Indoor
Online Rate From
$372/month
2ND MONTH FREE*
8X10
Online Rate From
$165/month
8X20
Online Rate From
$218/month
7X10
Climate Controlled
Indoor
5X15
Climate Controlled
Indoor
*Monthly rate is based on a 28-day billing cycle. 2nd Month Free offer is only available on select units and is subject to availability. Minimum four weeks rental required.
What's Near Our Kitchener Facility?
Make Space Storage Kitchener is located in the southeast region of Kitchener, accessible from Webster Road. Our self-storage in Kitchener is conveniently located in close proximity to Fairway Road, which is home to many local businesses, restaurants and shops. We are located in a more industrial area of Kitchener, making us ideal for commercial customers and business owners in need of self-storage. Our storage in Kitchener caters to a wide range of customers, making us the perfect storage place in Kitchener for commercial customers, business owners and residential customers.
Since our facility offers affordable self-storage, many students from Laurier and The University of Waterloo make the short 15-minute drive over to us to store their belongings if they decide to move home during the summer months. Many students have an 8-month lease or sublet their room for the summer to save money. Renting a cheap storage locker for a few months allows students to save money without moving their belongings home. Students get peace of mind knowing their belongings are safe and secure until they need them again.
Advanced Security
Make Space Storage Kitchener is an indoor storage facility with advanced security features to ensure your belongings are safe and secure. Each one of our storage units comes with its own individual alarm and our building and storage yards are only accessible through keypad entry, where each tenant will have their own personal and unique security code. These measures coupled with our 24/7 video surveillance of both the indoor hallways and outdoor facility grounds ensure that your belongings are always safe and protected as our on-site managers can monitor the cameras during business hours and remotely during non-business hours.
Accessibility
Our Kitchener storage units and on-site containers are accessible 24/7 through keypad entry. Just because our storage facility is indoors doesn't mean it lacks accessibility. Make Space Storage on Webster Road has an unloading and loading dock area to back your car up right to the building for easy loading and unloading. You then can use one of the dollys provided at the facility to quickly bring your items through our spacious laneways to your clean unit. Make Space Storage Kitchener also has on-site storage containers that are great for people storing heavier items, tools and machinery. Driving up to these containers will allow you to maneuver oversized items in and out quickly.
Heated Units
Our storage units in Kitchener are heated and available in various sizes. The facility is climate controlled, meaning we keep the building at a similar temperature all year to ensure your belongings are not affected by severe changes in weather. Some items that should be stored in a climate-controlled storage facility are electronics, leather furniture, antiques, photographs and expensive leather furniture. Choosing to keep them in a heated facility will prevent these items from warping or being damaged by freezing temperatures.
Sizes
Various storage lockers and on-site container sizes are available for rent at our Kitchener self-storage facility. This facility has many unit sizes ranging from 4x5 ft to 10x20 ft to accommodate all your storage needs. Our indoor facility has units ranging from 4x5 ft to 10x40 ft with their own individual alarms, while our on-site containers are all 8x20 ft shipping containers great for those in need of drive-up storage. No need to rent a space too large or too small! Whether you store a few items or the contents from a three-bedroom home, we have the correct size.
About Our Storage Lockers and On-Site Containers
Make Space Storage Kitchener is an indoor, climate-controlled self-storage building dedicated to providing you with accessible storage units. Our fully gated facility grounds also have 20 ft on-site containers for those wanting a larger drive-up storage option. Our Kitchener storage facility has spacious laneways, easy unloading and loading docks, advanced security features and heated lockers to ensure you are receiving the best possible storage experience. There are many uses for our affordable self-storage units, such as:
Storage for your home staging business

Extra storage for the clutter in your basement, closets or spare room

Storage for a small business or business run out of your home

Renovation company storage for tools, equipment and supplies

Winter seasonal storage for items such as skis, snowboards, snow blowers, shovels and more

Summer seasonal storage for things such as lawn mowers, gardening tools, bikes and more

Storage in-between a move if your closing date is before the day you take possession of your new home

Affordable seasonal storage for students going home for the summer

And so much more …
We have the cheapest storage around, ready to cater to all your storage needs.
Are you a local business running out of space to store seasonal equipment, extra inventory or supplies? We have a solution for you, with multiple size options available to cater to your storage needs. Store seasonal furniture, seasonal inventory and decor, extra supplies and more in one of our secure storage lockers.
Looking to declutter your life without getting rid of everything? Many residents of nearby areas choose to store their extra things instead of getting rid of everything. Clear out seasonal items from your basement, garage and storage closets to keep your home neat and organized. Switch out these seasonal items twice a year, and you'll never have to feel like your home is cluttered again.
Looking for a convenient moving storage solution? Our storage lockers are ideal for those needing to store their personal belongings while their home is staged for showings. Storage units also are an affordable option for those who have a gap between their closing date and the date they take possession of their new home.
Does your construction company need affordable storage for tools, small equipment or supplies? Our containers are ideal for construction, renovation and contracting companies looking for safe and secure storage. Enter our facility grounds, drive right up to your container and unload your things.
Want an inside look at our Kitchener facility? Scroll up to get an inside look at all the great features Make Space Storage Kitchener offers!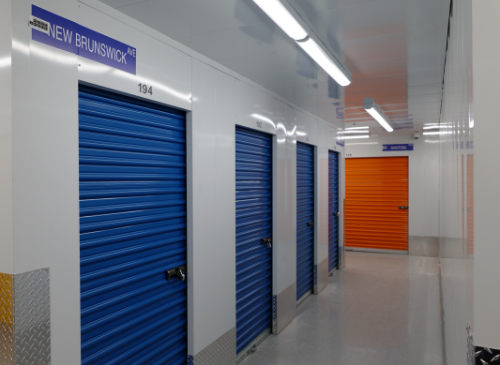 Storage Services
Storage in Kitchener has the following storage options available.
Self-storage lockers inside our climate controlled facility
On-site storage containers inside our gated grounds

Packing supplies
Storage solutions near you in Kitchener just got easier! Looking for a secure mobile storage option? Our sister company, Mobile Storage Rentals, can provide you with all your residential and commercial probable storage needs. Rent a storage container from them today and feel at ease knowing you are renting from a reliable company serving the KW area for years.