Self-Storage Units in Grimsby
Gate Hours
5am – 11pm everyday, 24/7 Access Available at Additional Fee
Office Hours
Monday - Friday 9am to 5pm; Saturday 9am to 12pm
Facility Address
265 Kerman Ave., Grimsby, Ontario, L3M 3W3
Contact Phone
Facility Address
265 Kerman Ave., Grimsby, Ontario, L3M 3W3
Facility Information
Office Hours
Monday - Friday 9am to 5pm; Saturday 9am to 12pm
Gate Hours
5am – 11pm everyday, 24/7 Access Available at Additional Fee
Available Storage Units in Grimsby
5X10
Climate Controlled
Drive-Up
Online Rate From
$142/month
2ND MONTH FREE*
5X10
Climate Controlled
Indoor
Online Rate From
$152/month
2ND MONTH FREE*
8X10
Online Rate From
$141/month
2ND MONTH FREE*
10X10
Climate Controlled
Indoor
Online Rate From
$225/month
2ND MONTH FREE*
10X10
Climate Controlled
Drive-Up
Online Rate From
$225/month
2ND MONTH FREE*
8X20
Online Rate From
$236/month
2ND MONTH FREE*
10X20
Climate Controlled
Drive-Up
Online Rate From
$360/month
2ND MONTH FREE*
5X5
Climate Controlled
Indoor
Online Rate From
$130/month
10X15
Climate Controlled
Indoor
Online Rate From
$312/month
5X8
Climate Controlled
Indoor
8X10
10X15
Climate Controlled
Drive-Up
10X20
10X25
Climate Controlled
Drive-Up
10X30
Climate Controlled
Drive-Up
10X40
Climate Controlled
Drive-Up
24X25
Climate Controlled
Drive-Up
*Monthly rate is based on a 28-day billing cycle. 2nd Month Free offer is only available on select units and is subject to availability. Minimum four weeks rental required.
What's Near Our Grimsby Facility?
Do you need a reliable storage facility in the Grimsby area? Make Space Storage Grimsby is located near Queen Elizabeth Way and can be found on Kerman Ave. We are just a few minutes away from Canadian Tire, Shoppers Drug Mart, local schools, parks, community centers, stores, and restaurants. Our ideal location and excellent services make us the perfect storage solution for many businesses, including real estate, plumbing, and electrical companies. In addition, with our easily accessible storage lockers and great customer service, our self-storage services are ideal for individuals who are moving to their new home in the area, downsizing or need a safe place for their boat or Rv during the off-season.
24/7 Video Surveillance
At Make Space Storage, we understand that the safety of your belongings is crucial. That is why we take security seriously at our Grimsby facility. Our self-storage facility is fully gated, and we have 24/7 video surveillance to ensure that all of our storage units and parking spots are monitored at all times. With our state-of-the-art security measures, you can rest assured that your items are safe and secure at our facility. So whether you are looking for long-term or short-term storage, you can trust us to keep your things safe and sound.
Accessibility
Our customers can easily access our Grimsby self-storage facility from 5:00 am to 11:00 pm on weekdays and weekends. Some of our self-storage units are drive-up lockers. These lockers provide an easy unloading and loading experience for all our customers. Drive-up storage units are great for storing heavy items such as books, tools, equipment and large furniture. These drive-up storage units can also be used as indoor storage for classic cars and smaller cars. Many people use our self-storage in Grimsby to store their classic cars because of their affordability when compared to indoor car storage facilities.
Heated Units
What is the best way to store your belongings that are sensitive to inconsistent temperatures? It is essential that they stay safe and sound, even in extreme temperatures and weather conditions. Luckily, there are climate-controlled heated self-storage lockers inside our temperature-controlled facility! These heated lockers will help protect different types of valuable items, such as artwork, antiques, furniture, and electronics, from damage caused by temperature, humidity, and weather changes.
Sizes
Are you tired of tripping over boxes, tools, and clutter in your home or workspace? We have just the thing if you want a place to store your items. Our Grimsby location has a variety of small, medium and large self-storage unit sizes. So whether you are looking for a place to keep your extra furniture and tools or are downsizing and requiring a little extra storage space, we can help with your short-term, long-term, and seasonal storage needs.
About Our Storage Lockers and Facility
The self-storage units at our facility are often considered low storage unit prices and solutions for many families, individuals, and companies located in Grimsby or neighbourhoods in surrounding areas. Our storage spaces are frequently used by people and companies who are looking for practical and accessible storage units in Grimsby. Here are some examples of the various ways our storage units are used:
Reliable storage for inventory, office supplies, small tools and equipment for contractors and business owners

Secure storage spaces for individuals who are downsizing, buying, selling, or moving homes

Safe storage lockers for furniture, books, decorations, vehicles, and other belongings

Summer storage for things such as camping gear, bicycles, beach items, outdoor furniture and gardening tools

Winter storage spaces for items such as snow tires, shovels, winter gear, and snowboards
No matter the length of time for your storage needs, our facility has budget-friendly storage solutions near you in Grimsby, Ontario.
Does your company or home need affordable storage for tools, small equipment or supplies? Our lockers are ideal for people and a wide range of businesses looking for accessible and secure local storage. If your house or company is short on space, then you should consider our storage lockers for your tools, small equipment, supplies, projects, or seasonal belongings. Our storage units are often used by staging companies, plumbing and electrical companies, and contractors in the Grimsby area.
Are you buying, selling, or moving homes and need flexible, temporary, short-term, or long-term storage and moving solutions? Finding reliable and affordable self-storage in Ontario can be challenging for homeowners planning to sell their property or move to a new location. We offer a variety of storage spaces that are excellent for people who need to store their personal belongings while their home is being staged and prepared for viewings or open houses. In addition, our Grimsby storage units can be a priceless asset for those buying or selling a home. They can help save time and simplify your plan while you are between your closing date and the possession or move-in date of your new residence.
Are you downsizing or in need of more space in your home or office?
Whether you are downsizing, relocating, renovating, or moving, utilizing a storage locker provides flexible storage and moving timeline. In addition, it allows you to prepare your home and items at your own speed. You can store your furniture, treasured possessions, extra clothes, supplies, furniture, decorations, tools, and even vehicles in our storage units for however long you need.
Do you need a place to store your seasonal items in winter and summer? As the seasons change, so does our need for various things. Bulky winter coats and snowshoes make way for light jackets and sandals. Then your garden rakes and leaf blowers replace beach umbrellas and pool floats. However, most of us do not have the luxury of infinite storage space in our homes. As a result, many of us must try to stuff our seasonal things into wardrobes, basements, spare bedrooms, garages, sheds, and attics, creating a cluttered and disorganized house. Our self-storage units provide a fantastic solution for people who want to organize and declutter their homes without being forced to throw away any of their winter or summer clothes, tools, equipment, and toys. Our Grimsby storage lockers are clean, dry, and secure. They provide the perfect place for storing your various seasonal items.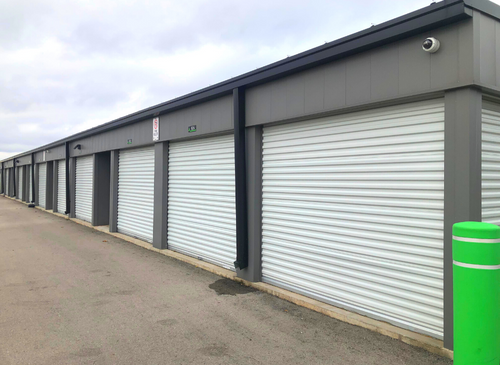 Storage Services
The Make Space Grimsby location has multiple moving and storage solutions for local business owners, families, and individuals residing near our storage facility in Grimsby, Ontario. Our high-quality moving and storage services include:
Easily accessible drive-up self-storage lockers

Heated storage units in our climate-controlled storage facility

Portable storage containers which are perfect for moving and storage at your home, office, or work-site

Parking spaces at our facility for your RVs, boats, trailers, and vehicles

Moving and packing supplies which you can order from our online store
You can easily reserve our Grimsby self-storage units online at any time to avoid the last-minute stress of trying to find a safe storage space for your things. However, if you are unsure which size or type of storage unit will meet your needs, feel free to contact one of our Make Space representatives online or by calling us. We are happy to help answer your questions about our self-storage units, portable storage services, parking spots, and facility in Grimsby, ON.