Self-Storage Units in Prince Albert
Gate Hours
Monday - Sunday 6:00am - 9:00pm
Office Hours
Tuesday - Friday 9:00am - 5:00pm; Saturday 9:00am - 1:00pm
Facility Address
356 Casavant Ave, Prince Albert, SK, S6V 5R3
Contact Phone
Facility Address
356 Casavant Ave, Prince Albert, SK, S6V 5R3
Facility Information
Office Hours
Tuesday - Friday 9:00am - 5:00pm; Saturday 9:00am - 1:00pm
Gate Hours
Monday - Sunday 6:00am - 9:00pm
Available Storage Units in Prince Albert
4X8
Online Rate From
$83/month
2ND MONTH FREE*
10X10
Online Rate From
$160/month
9X12
Online Rate From
$156/month
2ND MONTH FREE*
6X20
Online Rate From
$172/month
2ND MONTH FREE*
10X15
Online Rate From
$177/month
2ND MONTH FREE*
10X20
Online Rate From
$231/month
2ND MONTH FREE*
10X30
Online Rate From
$325/month
6X6
Online Rate From
$91/month
6X10
Online Rate From
$143/month
8X8
Online Rate From
$143/month
6X16
6.5X14
*Monthly rate is based on a 28-day billing cycle. 2nd Month Free offer is only available on select units and is subject to availability. Minimum four weeks rental required.
Testimonials
Dave Altenberg
Prince Albert
Trine Marie
Prince Albert
Angela Miller
Prince Albert
Shawna Zawerucka
Prince Albert
What's Near our Prince Albert Facility?
Our self-storage facility is just a 15-20 minute drive away from central Prince Albert. The self-storage units at our facility are frequently used for long-term and short-term storage by homeowners who need some extra space for their belongings, as well as individuals who are moving to the area and in need of storage as they get settled and fully move into their new homes. In addition, we have many commercial customers who use our self-storage lockers for their tools or inventory.
24/7 Video Surveillance
At our Prince Albert storage facility, we understand that the security of your belongings is of the utmost importance. That is why we have implemented a number of measures to ensure the safety and protection of your storage unit. Our facility is equipped with 24/7 video surveillance, which allows us to monitor each storage unit around the clock. Additionally, both of our locations are fully gated, providing an extra layer of security. We are committed to making sure that our customers can have peace of mind knowing that their possessions are safe and secure.
Accessibility
At our self-storage facility, we offer drive-up storage units to make it easy for you to access your belongings. These units allow you to park your car or vehicle right next to the storage locker, making it simple to transfer large, heavy, or awkward items. In addition to the convenience of our drive-up units, our Prince Albert self-storage facility is open during gate hours, so you can access your storage locker and belongings at a time that is convenient for you. Whether you are moving, downsizing, or just need extra space, our storage solutions can help you keep your possessions safe and secure.
Affordable Storage Units
At Make Space Storage, we offer budget-friendly storage unit prices for all of our customers in Prince Albert, Saskatchewan. Whether you need a single small locker or multiple larger units, we have options to suit your needs and budget. In addition, you can reserve your storage locker online to save yourself the last-minute stress of trying to find a secure place for your possessions or inventory. If you are within the Prince Albert area and are in need of self-storage, don't hesitate to contact us today to learn more about our affordable storage options.
Sizes
At Make Space Storage, we understand that every customer has unique storage needs. That is why we offer a range of drive-up storage locker sizes at our self-storage facility in Prince Albert, SK. Whether you are looking to store a few boxes of personal belongings or need a larger space to accommodate commercial inventory, we have a variety of sizes to choose from. Our facilities have a diverse selection of storage locker sizes available, so you can find the perfect fit for your specific requirements.
About Our Storage Lockers
Our self-storage lockers in Prince Albert provide budget-friendly storage solutions for families, homeowners, individuals, and local businesses. Here are some of the most common storage needs that our units frequently meet:
Safe storage for homeowners who are buying, selling, or moving homes
Secure spaces for furniture, books, decorations, and other personal belongings
Affordable storage for inventory, office supplies, and small tools and equipment for local businesses and contractors
Summer storage for items such as bikes, beach gear, camping equipment, and yard tools
Winter storage for holiday decorations, shovels, snowboards, skis, and snow tires
No matter what your storage needs may be, we have a solution that can help. Our units are flexible and accessible, making it easy for you to store and retrieve your items as needed.
If you are in the process of moving, our storage lockers can provide a suitable solution for storing your personal possessions. They are perfect for homeowners who need to store their items while their house is being staged or prepared for viewings or open houses. Additionally, our Prince Albert storage units can be a convenient option for those buying or selling a home, as they can help you save time and simplify the moving process during the gap between the closing date of your old home and the possession date of your new one. Whether you are looking to declutter your space or simply need a secure place to keep your belongings, our storage units can help you stay organized during the moving process.
If your home is feeling cluttered and cramped, a secure storage unit from the Make Space Storage Prince Albert location can help you free up space and keep your prized belongings without having to throw anything away. Our units are perfect for storing extra furniture, books, picture frames, seasonal items, suitcases, clothes, souvenirs, garden tools, and any other items that are taking up valuable space in your home. With a storage locker near you, you can clear out your basement, garage, shed, spare bedroom, closets, and living spaces, giving you more room to enjoy and use daily.
If your business is in need of extra space to store inventory and equipment, our company offers storage lockers that can accommodate your needs. Our units are perfect for keeping products, documents, tools, and small equipment safe and organized. Using our self-storage in Prince Albert can help you save space, time, and energy throughout the busy and slow seasons of your industry. Whether you are a small business owner or a large company, our storage solutions can help you stay organized and efficient.
If you are in need of affordable storage for tools, small equipment, or supplies, our convenient lockers are the perfect solution for your business. Whether you are in the industrial, construction, renovation, or contracting industry, our secure storage units can help keep your items safe and organized. If your company is tight on space, consider using our storage lockers for your extra supplies and seasonal commercial storage. Our lockers are designed to meet the needs of businesses, so you can have peace of mind knowing that your items are protected and easily accessible.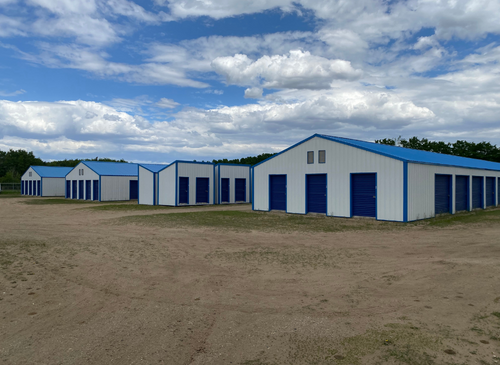 Storage Services
If you are in need of affordable storage solutions near you, Make Space Storage has a wide range of options for moving and storage in Prince Albert. Our services are ideal for local businesses and individuals living in nearby neighbourhoods and communities. Some of the trusted storage options we offer include:
Drive-up storage units with easy access for loading and unloading
Packing supplies available at our online store for both your moving and storage needs
Parking space storage at our facility for your spare vehicles, boats, RVs, and trailers
If you have questions about our self-storage and parking services, do not hesitate to contact us. Our Make Space representatives are happy to answer your questions and help you select the perfect storage unit to meet your present and future storage needs.