Self-Storage Units in Pembroke
Gate Hours
24/7 with access card or during office hours
Office Hours
Monday - Friday 9:00am to 5:00pm; Saturday 9:00am to 12:00am
Facility Address
1496 Pembroke Street West, Pembroke ON
Contact Phone
Facility Address
1496 Pembroke Street West, Pembroke ON
Facility Information
Office Hours
Monday - Friday 9:00am to 5:00pm; Saturday 9:00am to 12:00am
Gate Hours
24/7 with access card or during office hours
Testimonials
Christopher Emery
Pembroke
Patrick W. Mulroy
Pembroke
Micheal Lefebvre
Pembroke
What's Near our Pembroke Facility
We are located just across the highway from Dick Plummer Marine. We also have numerous car dealerships near our facility, which can be found right off Pembroke Street, W, between Petawawa and Pembroke in Ontario. Many of our clientele reside in nearby communities and neighbourhoods. Many of our storage units are used by homeowners who are selling or buying homes and need a place to store their belongings throughout the staging and moving process. In addition, we have many individuals who use our parking spaces, storage lockers and on-site storage containers to meet their short-term and long-term storage needs for their belongings, cars, and items while they are away for many weeks and months at a time for work.
24/7 Video Surveillance
24/7 video surveillance is an important security measure to have in place at any storage facility. For this reason, our fully gated storage facility has 24/7 video surveillance to help ensure the safety and security of our customers' belongings and vehicles parked at our Pembroke self-storage facility. Our security features help customers relax, knowing their belongings are safe and secure in their storage locker, parking space or on-site container.
Accessibility
Our facility allows customers to access their storage units 24/7, so you can always get what you need when you need it. We also have on-site containers and self-storage lockers in Pembroke that you can drive up to, making it easy to unload or load your belongings. In addition, due to our facility's convenient location between Pembroke and Petawawa on Pembroke Street, W, you can easily access your stored belongings during the day or night at your convenience.
Heated Units
If you are looking for a cheap storage solution to keep your belongings safe and sound, even in extreme temperatures, then a heated storage unit is the way to go. Heated storage units are located inside our temperature-controlled facility and are designed to maintain a constant temperature, preventing your belongings from being damaged by extreme heat or cold. So whether you are storing valuable artwork or delicate electronics, a heated storage locker will help to protect your belongings from temperature fluctuations.
Sizes
Our Pembroke storage facility has multiple sizes of storage spaces, on-site containers, and parking spaces to accommodate your belongings. Some of our most common sizes are our 10-foot and 20-foot lockers and containers, which are perfect for keeping your belongings safe and secure. So whether you need to store seasonal items, excess inventory, or important documents, our convenient storage solutions will make your life easier. Contact us today to learn more about our self-storage near you.
About Our Storage Lockers and On-Site Containers
Our self-storage units provide budget-friendly solutions for many families, individuals, and businesses who need accessible and flexible storage in Pembroke, ON, to meet their various short-term, long-term, temporary, and seasonal storage needs. Here are some examples of the different ways our storage units are frequently used:
Secure storage for homeowners who are buying, selling, or moving homes

Safe storage spaces for furniture, books, decorations, and belongings

Storage for inventory, office supplies, small tools and equipment for businesses

Summer storage for items such as bikes, beach stuff, gardening tools and furniture

Winter storage for your items such as shovels, snowboards, skis, and snow tires

Storage for your possessions while you are away for work or other reasons
Whatever your needs, we have affordable storage lockers, on-site containers and parking spaces at our secure self-storage facility.
Are you looking for a suitable moving storage solution for homeowners? Our various sizes of storage lockers which are ideal for people needing to store their personal items while their home is being staged and in the process of getting ready for viewings or open houses. In addition, for those who are buying or selling a home, using our storage units can help save time and simplify your process while you are between your old home's closing date and the new house's possession date.
Is your residence running out of space and getting cluttered with all of your items? Using one of our storage units can help you declutter your living space without getting rid of any treasured possessions. You can keep your extra furniture, books, picture frames, seasonal items, suitcases, clothes, yard tools, and anything that is taking up precious space in your spare room, home office, den, or basement.
Does your local business need somewhere to keep extra inventory and equipment? Consider storing your merchandise, documents, tools, and small equipment in one of our storage lockers. If you have holiday decorations and other seasonal things for your company, keeping them nearby is an excellent way to optimize your workspace and environment. Utilizing self-storage units helps you save space, time, and energy throughout your industry's busy and slower seasons.
Do you need temporary or seasonal storage for your belongings? Keeping your skis, bikes, snowboards, beach stuff, garden furniture, tires, and seasonal items or toys in self-storage can free up valuable space in your garage, attic, basement, shed, or yard. In addition, you can relax knowing they are safely in storage and will be ready for use next winter or summer. One popular strategy many people follow is rotating their belongings in and out of storage twice a year.
Are you going to be away from your work for multiple weeks and months at a time? We have a wide range of flexible storage solutions to accommodate the timeframe and needs. You can keep your vehicles, the contents of your home, extra items, and tools at our storage facility for both the short-term and long-term, depending on your specific plans.
Do you want a sneak peek inside our indoor and outdoor storage units at our Pembroke location? Just scroll up to get a look at the storage features our facility has to offer.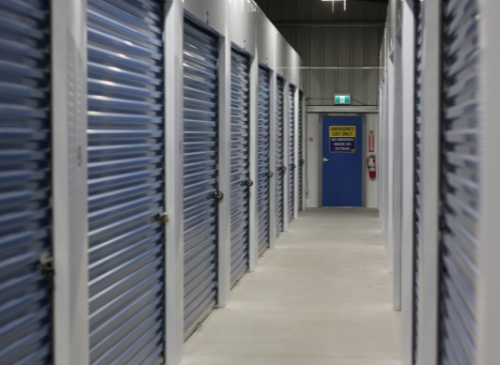 Storage Services
From parking spaces for your boat or vehicle at our facility to various portable storage containers for your move or storage at your address, there are plenty of additional moving and storage services at our Make Space Storage Pembroke location.
Here is a summary of some of the ways we can help meet your various personal or business storage needs:
If you have questions about our self-storage and portable storage services, please contact us today to discover more about our affordable storage unit prices at our storage facility in Pembroke, Ontario.