Choose From 2 Self Storage Facilities in Carleton Place
Select Location:
Office Hours
Monday - Saturday 9:00am to 5:00pm. Closed on Sunday.
Facility Address
10865 Hwy 7, Carleton Place, ON
Contact Phone
Facility Address
10865 Hwy 7, Carleton Place, ON
Facility Information
Office Hours
Monday - Saturday 9:00am to 5:00pm. Closed on Sunday.
Available Storage Units in Carleton Place
You are viewing units at our
Hwy 7
​ location
5X15
Online Rate From
$109/month
2ND MONTH FREE*
5X10
Climate Controlled
Indoor
Online Rate From
$150/month
10X10
Online Rate From
$136/month
2ND MONTH FREE*
10X10
Climate Controlled
Indoor
Online Rate From
$187/month
2ND MONTH FREE*
10X15
Online Rate From
$180/month
2ND MONTH FREE*
10X15
Climate Controlled
Indoor
Online Rate From
$225/month
2ND MONTH FREE*
10X20
Online Rate From
$209/month
2ND MONTH FREE*
10X20
Climate Controlled
Indoor
Online Rate From
$274/month
2ND MONTH FREE*
10X30
Online Rate From
$300/month
2ND MONTH FREE*
5X5
Climate Controlled
Indoor
Online Rate From
$90/month
15X15
Online Rate From
$271/month
10X25
22X32
30X32
*Monthly rate is based on a 28-day billing cycle. 2nd Month Free offer is only available on select units and is subject to availability. Minimum four weeks rental required.
What's Near our Carleton Place Facilities?
Our Carleton Place facilities are located on either side of the river and are easily accessible since they are located on Hwy 7 and Townline Rd. Our facilities are conveniently located in industrial areas but are closely surrounded by housing with new subdivisions, which are prime areas close to local schools, parks, and businesses. Both locations have drive-up storage lockers, which customers can access anytime, day or night. The self-storage units at our facilities are frequently used for long-term storage by homeowners who need some extra space for their belongings, as well as individuals who are moving to the area and in need of storage as they get settled and fully move into their new homes.
24/7 Video Surveillance
We appreciate that keeping your belongings in a secure and safe place is crucial to our customers. This is why all of our Carleton Place storage facilities have around-the-clock 24/7 video surveillance to ensure that each of our storage units is carefully monitored at all times. In addition, both of our locations are fully gated to ensure the security and safety of our self-storage facilities. Security is one of our top priorities so that our customers can relax knowing that their storage locker is secure and being monitored at all times.
Accessibility
Our storage lockers in Carleton Place are drive-up storage lockers which provide easy access for loading and unloading right from the back of your car or vehicle. Using this type of storage unit is perfect for moving large, heavy, or bulky items from a vehicle to a storage locker quickly and smoothly without having to carry them long distances. In addition, customers can access their self-storage units during gated hours at our facilities. Our Carleton Place self-storage facilities provide 24h access so that our customers can access their storage lockers and belongings any time of the day or night at their convenience.
Heated Units
Do you have electronics, furniture, and other items that require a climate-controlled environment? With a heated storage unit at our Hwy 7 location, our customers can keep their stored belongings in a temperature-controlled space. Heated storage units are ideal for keeping items safe and protected from cold temperatures that could be damaging. You can contact us today to learn more about our affordable self-storage near you in Carleton Place, Ontario.
Sizes
We have multiple sizes of drive-up storage lockers at our self-storage facilities in Carleton Place, ON. Our Townline Road and Highway 7 locations have a diverse selection of sizes to accommodate your needs. Both facilities have quite a few different sizes of storage lockers. For example, we have smaller 10X10 drive-up storage lockers as well as considerably larger drive-up storage spaces available for our customers' personal and commercial storage requirements.
About Our Storage Lockers and Facilities in Carleton Place
Our Make Space Storage Carleton Place storage units provide budget-friendly solutions for many families, homeowners, individuals, and local businesses who are in need of flexible and accessible storage solutions near them. Here are just some of the most common examples of the different storage needs that our storage units frequently meet:
Safe storage for homeowners who are buying, selling, or moving homes
Secure storage spaces for your furniture, books, decorations, and belongings
Affordable storage for inventory, office supplies, small tools and equipment for local businesses, companies, and contractors
Summer storage space for items such as bikes, beach items, camping equipment, yard tools and garden furniture
Winter storage space for your items such as holiday decorations, shovels, snowboards, skis, and snow tires
Whatever your needs, our facility provides affordable, flexible, convenient, and reliable long-term, short-term, seasonal, and temporary self-storage solutions.
Are you looking for a suitable moving storage solution for homeowners? Our storage lockers are excellent for individuals and families who need to store their personal possessions while their house is being staged and in the process of getting ready for viewings or open houses. In addition, for those buying or selling a home, using our storage units can help save time and simplify your process while you are between your old home's closing date and the new house's possession date.
Is your home running out of space and cluttered with all your items? When you use one of our secure storage units, they can help you free up your home and living space without having to throw away any of your prized belongings. Instead, you can keep your extra furniture, books, picture frames, seasonal items, suitcases, clothes, souvenirs, garden tools, and anything that takes up precious space in a storage locker near you. This frees up your basement, garage, shed, spare bedroom, closets, and living spaces so that you can fully enjoy and use them each day while knowing that your other things are safely tucked away in storage.
Does your business need somewhere to keep extra inventory and equipment? Then, you should consider keeping your products, documents, tools, and small equipment in our storage lockers. Using our self-storage in Carleton Place allows you to save space, time, and energy throughout your industry's busy and slower seasons. In addition, If you have holiday decorations and other seasonal items for your company, then keeping them nearby in a storage locker is a fantastic way for you to optimize your work environment and office space.
Does your business need affordable storage for tools, small equipment or supplies? Our convenient lockers are ideal for any industrial, construction, renovation and contracting businesses looking for safe and secure storage. Also, if your company is short on space, consider using our storage lockers for your extra supplies and seasonal commercial storage.
Do you want to see what our Carleton Place locations look like? Then, scroll up to get a sneak peek inside our facilities and the great storage features they offer.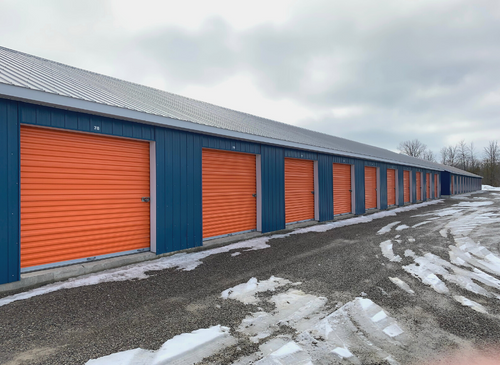 Storage Services
We have affordable storage solutions near you, which are ideal for local businesses and individuals residing in nearby neighbourhoods and communities. Our company provides a wide range of options for moving and storage in Carleton Place. Here are some examples of the trusted storage services we provide in your area:
Drive-up storage units with easy access for loading and unloading
Our Hwy 7 facility has heated self-storage spaces that are great for keeping items warm and safe from cold weather conditions
Portable storage containers ready for delivery to your desired address
Packing supplies available at our online store for both your moving and storage needs
Propane sales and refill station at our Make Space Townline Rd location. Please check our website to see when this service is available
If you have questions regarding our self-storage and portable storage services, please feel free to contact us today to discover more about our great storage unit prices at our storage facilities in Carleton Place. Our Make Space representatives are happy to answer your questions and help you select the perfect storage unit to best match your unique present and future storage needs.