Self-Storage Units in Ottawa
Gate Hours
6:00am - 9:00pm, 7 days a week
Office Hours
Monday - Friday 9:00am to 5:00pm
Facility Address
5345 Canotek Road, Ottawa, ON
Contact Phone
Facility Address
5345 Canotek Road, Ottawa, ON
Facility Information
Office Hours
Monday - Friday 9:00am to 5:00pm
Gate Hours
6:00am - 9:00pm, 7 days a week
Available Storage Units in Ottawa
5X5
Climate Controlled
Indoor
Online Rate From
$130/month
2ND MONTH FREE*
5X10
Online Rate From
$154/month
7X8
Online Rate From
$156/month
2ND MONTH FREE*
5X10
Climate Controlled
Indoor
Online Rate From
$195/month
2ND MONTH FREE*
8X10
Online Rate From
$193/month
2ND MONTH FREE*
10X10
Online Rate From
$260/month
2ND MONTH FREE*
5X5
Online Rate From
$115/month
10X25
Online Rate From
$515/month
8X20
Online Rate From
$331/month
2ND MONTH FREE*
10X10
Climate Controlled
Indoor
10X15
10X20
Climate Controlled
Indoor
10X20
10X30
10X35
*Monthly rate is based on a 28-day billing cycle. 2nd Month Free offer is only available on select units and is subject to availability. Minimum four weeks rental required.
Testimonials
Gilbert KUTCHKOSKIE
Ottawa
What's Near our Ottawa Facility?
If you are looking for self-storage units in Ottawa, then you should consider our budget-friendly storage unit prices at our Canotek storage facility. It is ideally located in the Canotek Business Park, only 1-2 minutes from the HWY 174 Montreal Rd exit. The closest residential neighbourhood to our facility is Beacon Hill. We also have many clientele who are from Orleans, Blackburn Hamlet, and Rothwell Heights. In addition, many small businesses and contractors frequently use our storage units in Ottawa are from Canotek Park, Orleans, and surrounding neighbourhoods or communities.
24/7 Video Surveillance
Our Ottawa storage facility is fully gated and has 24/7 video surveillance. We appreciate that security is essential to our customers. This is why we have around-the-clock video surveillance to ensure that all of our storage lockers at our facility are monitored at all times. Our security allows customers to relax, knowing that their belongings are being carefully watched at our secure storage facility.
Accessibility
The facility is conveniently located on Canotek Road inside Canotek Business Park, which is perfect for customers with businesses or homes nearby. At our Ottawa self-storage location, customers can easily access their storage unit during gate hours. Our gate hours allow you to easily access your self-storage lockers any day of the week or weekend between 6:00 AM and 9:00 PM.
Heated Units
Some of our storage units at our self-storage facility in Ottawa are in a temperature-controlled facility, meaning the building is at a similar temperature all year round. Our climate-controlled heated storage units are ideal for keeping your belongings secure and unaffected by unpredictable weather conditions or temperatures. Some items that should be stored in one of our heated storage lockers include photographs, antiques, furniture, artwork, and electronics. These storage units are ideal for preventing your belongings from being damaged or warped by cold weather.
Sizes
Whether you need one of our smaller 5X5 storage lockers or a larger 10X20 storage unit, we have multiple sizes of storage lockers at our facility in Canotek Business Park to suit your personal or business self-storage needs. If you are unsure what sizes will best meet your requirements, then contact us today, and our representatives are happy to help you find an affordable self-storage unit to best meet your precise requirements and storage needs.
About Our Storage Lockers
Make Space Storage facility has flexible, reasonable, and accessible self-storage in Ottawa, ON. There are many different advantages, benefits, and uses for self-storage spaces. Here are examples of the various ways our storage units are frequently used by customers:
A secure storage locker for your possessions, projects, furniture, or clutter from your home, office, yard, spare room, or basement

A safe place to store and rotate seasonal belongings, equipment, clothes, tools, and items

Storage spaces for people who are relocating, downsizing, renovating, or need extra space in their living spaces

Storage for excess inventory, office supplies, or merchandise for local businesses and contractors

Summer seasonal storage for things such as bikes, garden furniture, beach items, and yard tools

Winter seasonal storage for items such as snow tires, shovels, and skis

Temporary storage during moves, construction, renovations, and cleaning
Whatever your personal or commercial storage needs, our company has flexible, accessible, and budget-friendly self-storage options.
Are you going to be away for work for multiple weeks and months? We have many adaptable storage solutions to accommodate the timeframe and needs. You can keep your equipment, the contents of your house, extra items, and tools at our storage facility for both the short-term and long-term, depending on your precise objectives.
Are you a contractor or have a company that needs storage for tools, small equipment or supplies? Our lockers are ideal for people and a wide range of companies looking for flexible and secure local self-storage. If your business is short on space, then you should consider using our storage lockers for your tools, small equipment, supplies, projects, or seasonal belongings.
Are you looking to declutter your life, home, or workspace without throwing out your most treasured possessions? Many people store their extra items in one of our storage units instead of throwing them away. In addition, they often clear out seasonal things from their basement, garage, storage closet, spare bedroom, and yards to keep their residence neat and organized. A great storage tip is to rotate or switch out these seasonal things twice a year so that you will never have to feel like your living space is crowded with all the things you do not need that season. For example, many people decide to store their skis, snowboards, winter clothes, seasonal tires, bikes, camping gear, tools, small equipment, holiday decorations, and extra furniture.
Does your local business need someplace to keep your excess products and supplies? Consider storing your merchandise, supplies, records, tools, and small equipment in one of our storage units. If you have holiday decorations and other seasonal supplies for your business, keeping them close to you in storage is a perfect way to optimize and declutter your workspace and environment. In addition, utilizing self-storage units helps you save space, time, and energy throughout your industry's busy and slow seasons.
Are you looking for a convenient moving storage solution? Our storage spaces are ideal for those needing to store their personal belongings while their home is being staged and in the process of getting ready for viewings or open houses. Whether you are downsizing, relocating, renovating, or moving, utilizing a storage locker provides a flexible storage timeline. In addition, it allows you to prepare your home and possessions at your own pace. In addition, storage units are affordable choices for those with time between their closing date and the date of possession of their new home.
Do you want a look inside our storage units and self-storage facility? Scroll up to look inside at the great features our Ottawa Canotek storage location has to offer our customers.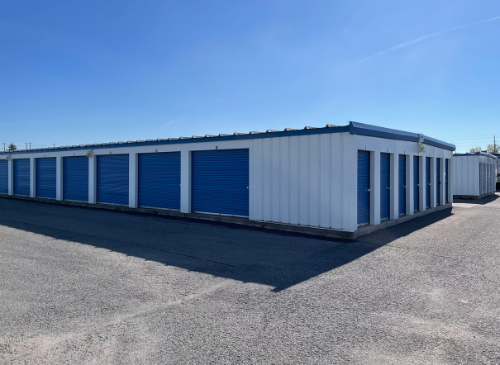 Storage Services
Make Space Storage Ottawa provides multiple cheap storage solutions and moving services. Here is a summary of some of the storage and moving services we have at our Canotek Business Park location:
Accessible storage lockers for your personal or business storage needs

Heated storage units in our temperature-controlled facility

Portable storage containers ready to be delivered to your desired address

Packing supplies which can be ordered from our online store
We also have other self-storage facilities located across Canada and in Ontario. You can visit our locations pages to find the closest self-storage near you. If you have any questions about our storage services or facility, you can learn more on our website or contact us today. Our Make Space representatives can help answer your questions and can assist you in selecting the perfect storage solution that best matches your precise personal and commercial storage requirements and needs.