Boat / RV Storage for Rent in Ladysmith
Office Hours
Tuesday to Friday 8:30am - 4:30pm, Saturday 8:30am - 12:30pm
Facility Address
10884 Westdowne Road, Ladysmith, BC V9G 1X5
Contact Phone
Facility Address
10884 Westdowne Road, Ladysmith, BC V9G 1X5
Facility Information
Office Hours
Tuesday to Friday 8:30am - 4:30pm, Saturday 8:30am - 12:30pm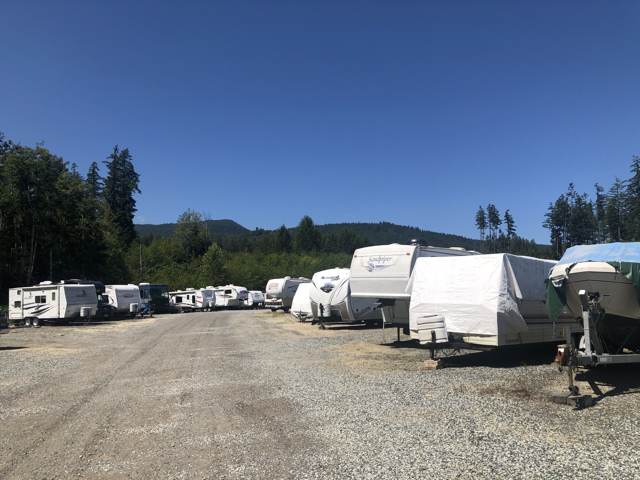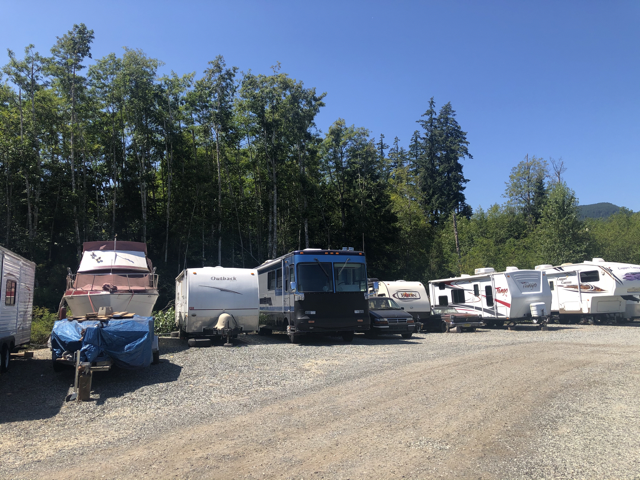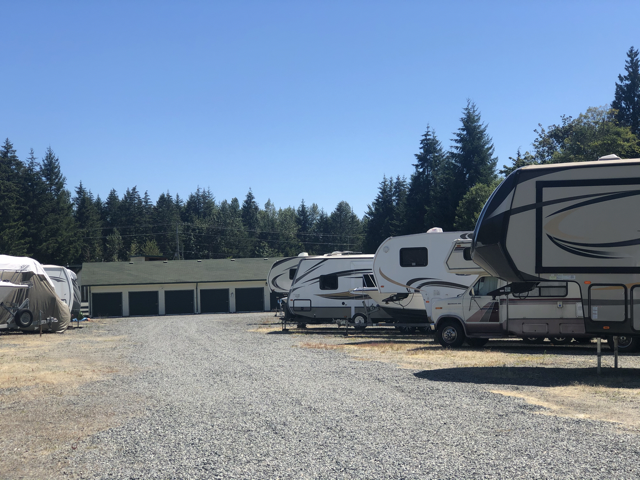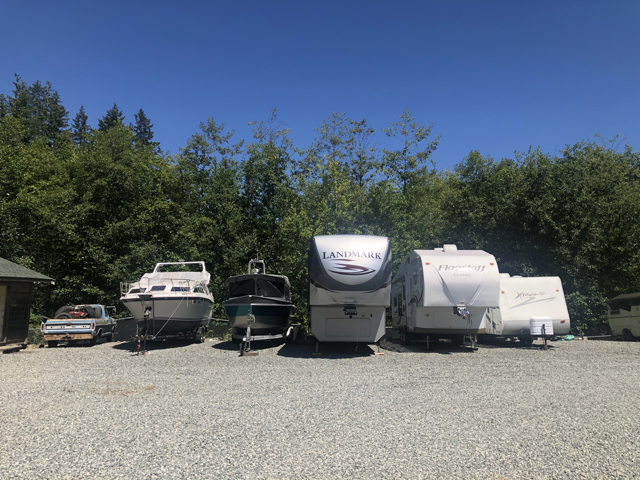 About this Service
Our Ladysmith location has the ideal solution for your personal and commercial vehicle and boat storage needs! Our secure facility offers various sizes of outdoor parking spaces. They are perfect for keeping RVs, boats, trailers, cars, and other vehicles safe throughout the seasons you do not need them. Whether it is a trailer needing protection against rust damage or a boat that needs to be stored securely throughout winter months, Make Space Storage has reliable and affordable RV & boat storage solutions in Ladysmith. With our dependable long-term and short-term solutions in Ladysmith, BC, you can rest assured that your vehicle, boat, or trailer is safe at our facility.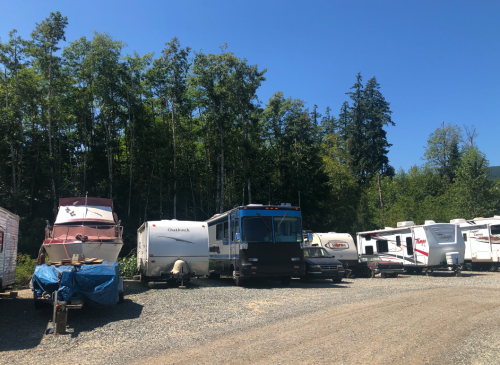 Testimonials
Dave Blanchette
Ladysmith
Stuart Schoenberger
Ladysmith
eric c desjardins
Ladysmith
Michelle Bellemare
Ladysmith
Christopher Borden
Ladysmith
Storage Solutions for Any Situation
Are you in need of a place to store and park your RV, trailer, car or boat for an extended period of time? Look no further! We have affordable parking spaces and storage solutions that can accommodate your specific requirements, whatever they may be. Not sure what will best meet your needs? Feel free to contact us today, and our representatives are happy to help you find the best storage and parking solution for your vehicle.
Car and Motorcycle Parking In Ladysmith
Our Ladysmith storage and parking facility is the perfect place for your vehicles! Whether it is a classic car, spare vehicle, commercial car or motorcycle, you can find plenty of secure storage and parking spaces at our location. With 24-7 surveillance that monitors all parking spaces and storage units at our facility, customers can rest easy knowing that their vehicle is safe at our facility. If you want to learn more about our parking spaces in Ladysmith, please give us a call and we are happy to help you discover the best parking options for your car, truck, or motorcycle.
Trailer and RV Storage in Ladysmith
Avoid cluttering up your property with your RV or trailer throughout the months they are not in use. Investing in our trailer and RV parking in Ladysmith is the perfect solution to declutter your driveway and garage. Our location has affordable parking storage spaces, that are ideal for keeping your camping vehicles tucked away safely during periods of not being used. Whether you need RV and trailer storage in Ladysmith for the season or during the busy periods in your life, we have flexible solutions. Whether you need to store your commercial trailer or your RV throughout the winter, we are happy to help you find which of our parking options is an ideal Ladysmith trailer storage or RV parking solution for your needs.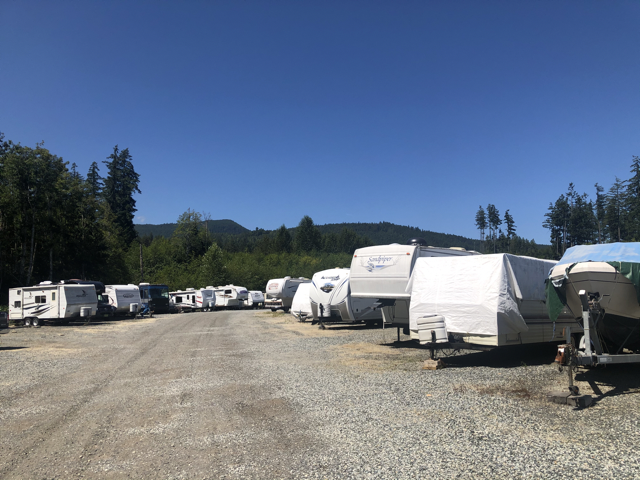 Boat Storage in Ladysmith
Have you been struggling to find a safe and secure location to keep your boat? Our facility's Ladysmith boat storage solutions provide the perfect space for keeping your vessel, boats, and vehicles all year round or during the off seasons when they are not being used. Our customers on Vancouver Island can relax knowing that our location is monitored 24/7, providing top-notch security for the boats and items stored at our facility. In addition, you can drop off your boat at our location and then relax knowing it will be safe and ready for your next adventure. We make seasonal parking and storage simple and convenient at our Ladysmith location.
Why Choose our Boat and RV Storage Company?
Our parking and storage facility is just off the Trans Canada Highway between Nanaimo and Duncan on Vancouver Island. The parking facility is located a little South of central Ladysmith and is located on Westdowne road.
Here are some of the best benefits of keeping your boats, RVs, trailers, cars, and vehicles at our storage and parking facility:
We have some of the most affordable parking prices for storing trailers, RVs, boats, cars and personal or commercial items at our Ladysmith facility.
Need somewhere safe to park and store your vehicle or trailer? We have got you covered with our all-season facility that has perfect storage spaces for boats, cars, trailers, campers and RVs.
Customers can access their vehicle or storage unit during gate hours. At our Ladysmith facility, we provide 24/7 access for our customers.
Our Ladysmith RV storage and outdoor boat storage has the ideal secure, safe and flexible solution for many businesses and individuals.
You can easily declutter, organize, and free up space in your garage, yard, or driveway by utilizing one of our outdoor parking storage units for your car, boat, camper, trailer, or vehicle.
Make Space Storage in British Columbia offers a variety of storage solutions for all your needs. Our services include parking and self-storage units at our facility, as well as portable storage container rentals and packing supplies. You can request a customized quote online, or if you have additional questions you can speak with our representatives. We are happy to help answer your questions about our services, storage units, and facility.