Self-Storage Units in Winnipeg
Gate Hours
6:00am-11:00pm everyday
Office Hours
Monday - Friday 8:00am-5:00pm
Facility Address
55078 PR 207, Navin, MB R5T 0J7
Contact Phone
Facility Address
55078 PR 207, Navin, MB R5T 0J7
Facility Information
Office Hours
Monday - Friday 8:00am-5:00pm
Gate Hours
6:00am-11:00pm everyday
Testimonials
Laurie Hursley
Versatile Place
Lana Price-Lyons
Innisfail South
Melody Maggrah
Prince Albert
Hemi2fast
Innisfail South
Marian Matusik
Port Coquitlam
What's Near Our Winnipeg Facility?
Make Space Storage Winnipeg is easily accessible right off of highway #1. Our storage units in Winnipeg are conveniently located a few kilometres east of the city, making us ideal for surrounding rural customers, commercial customers, residents of the east side of Winnipeg, and families headed to the cottage and campground areas in Whiteshell and Lake of the Woods.
24/7 Video Surveillance
Make Space Storage facilities are fully gated and have 24/7 video surveillance to ensure all storage lockers and on-site containers stay secure while being carefully monitored at all times. You can access this facility by keypad entry at the gate and feel at ease knowing our well-lit facility is made to keep your stuff safe. Our facility has on-site managers available five days a week to provide any assistance you may need when loading or unloading your unit.
Accessibility
You can access your storage unit at our Winnipeg facility every day from 6am to 11pm.
Our self-storage in Winnipeg is easily accessible upon entering our facility grounds. All storage lockers and on-site containers can be conveniently driven up to for fast unloading and loading of your belongings. Drive-up storage units are ideal for customers storing large, heavy items because you can remove items from your vehicle and only walk a couple of steps from your trunk to your unit. Convenience is a top priority at all Make Space Storage facilities; if you need help, do not hesitate to ask our great facility managers for assistance.
The Most Affordable Storage
Whether you need to rent one small storage unit or multiple on-site containers, Make Space Storage rentals always offers budget-friendly pricing. Storage for rent often is the most affordable storage option for people without enough space at their home or business. Avoid keeping clutter in your home or scrambling to find a larger storage warehouse for your business by reserving a unit online, or contact us today for a custom quote tailored to your self-storage needs.
Sizes
Our self-storage spaces come in various sizes at Make Space Storage Winnipeg, including small to large sized storage lockers and 20ft to 53ft on-site containers to meet all your storage needs. Whether you are storing just a few things, the contents from your home, small farm equipment or a vehicle, we can help. Not sure what size will work for you? Give us a call today, and one of our customer service representatives would love to provide advice and recommendations regarding what size will work best for you!
About Our Storage Lockers and Facility in Winnipeg
Make Space Storage's Winnipeg storage units are a perfect storage solution for individuals and businesses. Our storage solutions near you in Winnipeg have many uses, such as:
Storage for the clutter you cleared out of your basement, storage room or garage.
Space for small farming equipment, supplies and tools.
Storage for contractors and renovators to keep inventory, equipment and tools.
A place to keep your belongings in between a move.
Safe indoor storage for classic cars.
Seasonal summer storage to keep ATVs, lawn mowers, motorcycles and other summer-related items during the winter months.
Seasonal winter storage to keep snow plowers, snowboards, skis, snowmobiles and other winter-related items during the summer months.
Whatever your storage needs are, we have an accessible storage solution for you.
You may be planning to remodel your cottage but are not sure what the best storage option for your furniture is, or you are a builder/renovator in this area needing storage for your tools and supplies. Our convenient location is the perfect solution for accessible storage close to cottage country. Not only that, but Make Space Storage Winnipeg is an excellent stop for all things moving and storage. Your closing date does not align with the date you take possession of your new house, and you need a reliable storage rental to store your household belongings until your move-in date safely.
Trust us to provide the ultimate storage experience with multiple storage locker and on-site container sizes available at our self-storage facility. Make Space Storage Winnipeg also has RV/boat parking spaces at our facility and secure mobile storage units that can be delivered to your property. We even have packing supplies available to purchase in the front office to organize your belongings when packing up your home or business supplies.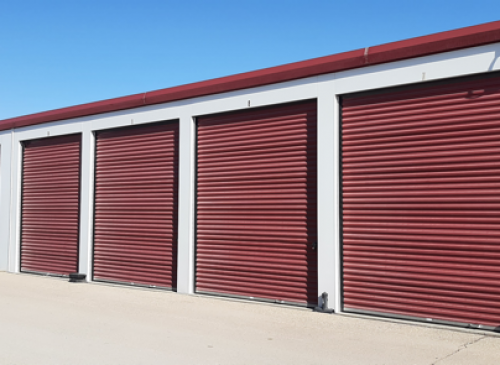 Storage Services
Our storage facility in Winnipeg has a variety of storage solutions to meet your needs:
Self-storage lockers and on-site containers
Portable storage containers for residential and commercial storage
Outdoor RV, boat, trailer and vehicle parking spaces
Packing supplies for moving and storage
Our Winnipeg facility fills up occupancy fast! Ensure you reserve your unit in advance to ensure you receive the storage solution you need to avoid disappointment.
Click here to view our portable storage containers, parking spaces or packing supplies.