Self-Storage Units in Orillia
Select Location:
Gate Hours
24-Hour Access
Office Hours
9:00AM - 5:00PM Tuesday to Saturday
Facility Address
1289 Brodie Dr, Orillia, ON L3B 0B2
Contact Phone
Facility Address
1289 Brodie Dr, Orillia, ON L3B 0B2
Facility Information
Office Hours
9:00AM - 5:00PM Tuesday to Saturday
Gate Hours
24-Hour Access
Our Units
You are viewing units at our
Sundial
​ location
5X10
Online Rate From
$136/month
10X15
Online Rate From
$225/month
10X20
Online Rate From
$262/month
5X10
10X10
Climate Controlled
Indoor
10X25
25X25
10X5
7X10
Climate Controlled
Indoor
10X10
10X15
Climate Controlled
Indoor
*Monthly rate is based on a 28-day billing cycle. 2nd Month Free offer is only available on select units and is subject to availability. Minimum four weeks rental required.
What's Near Our Orillia Self-Storage Facility?
We have two facilities in Orillia to serve you! The first, previously known as Sundial Mini Storage, is in the northern part of the city just up Highway 11 from Orillia Square Mall on Brodie Drive. On the other side of Hwy 11, directly across from our facility, you'll find several car dealerships including Orillia Motor Sport, Hwy 11 Chrysler Dodge Jeep Ram, and Experience Nissan. Being close to the highway and easily accessible from the Carylon Line off and on-ramps, our facility is perfect for businesses looking for additional storage space at an affordable price or residential & personal customers who just need either a long or short-term heated storage space for their belongings.

Our second facility in Orillia, previously known as HiWay United Storage, is located on 40 United Drive just south of Highway 12 off Memorial Avenue. Nearby you'll find many local businesses including Peavey Mart, directly beside our facility, Mac Lang Orillia Ram Jeep Dodge Chrysler, Leon's, and Tim Hortons. Our proximity to Highway 12 makes our facility the ideal choice for commuters and nearby businesses looking for convenient and affordable storage solutions.

24/7 Video Surveillance
At Make Space Storage we take the security of our facilities and our customer's belongings seriously. This is why our self-storage facilities in Orillia are fully gated and feature 24/7 video surveillance to ensure all storage lockers are monitored and always protected. When you choose to store your things with us, rest assured you're getting nothing but the best!

Affordable Storage
Finding a self-storage facility near you shouldn't mean that you need to pay more. That's why at Make Space Storage Orillia, we have budget-friendly and affordable self-storage units. Whether you need to rent just one small storage locker or multiple larger storage units, we can help! Move in online today or give us a call to discuss your storage needs.

Multiple Sizes
Both of our facilities in Orillia have multiple storage locker sizes available to rent. Whether you are storing a few items, a vehicle, or an entire 3-bedroom house, we have the right size for you. From 5' x 10' lockers, 10' x 10' lockers, 10' x 20' lockers and more, we've got the right size for all your personal or commercial storage needs. Give us a call or book your unit online today!

Accessible Drive-Up Units
Both our storage facilities on Orillia feature drive-up storage lockers and units with wide laneways for easy and convenient loading which can be accessed by our customers 24 hours a day. Since they are drive-up units, this makes them the perfect choice for loading and storing heavy or large items as you can simply move them directly from your vehicle to your unit.
About Our Storage Lockers in Orillia
Whether you need a secure storage unit to store your personal possessions for a short period of time or you are looking for a long-term storage solution for your business needs or project, Make Space Storage is the go-to storage company near you in Orillia, ON. We provide affordable, accessible, and convenient storage units for rent to suit your personal and business storage needs. Here are some of the benefits of choosing us:
Safe and secure storage with 24/7 video surveillance.
Drive-up storage lockers with wide laneways for easy loading and unloading of your unit.
Multiple sizes available including 5 x 10 units, 10 x 10 units, 10 x 20 units and more!
Business and commercial-friendly facilities.
Heated storage units are available at our Sundial facility to keep your things protected from harsh weather conditions.
We also offer vehicle parking and storage solutions at our United Drive facility.
From tools, building materials, furniture, or even precious family heirlooms – rest assured that anything you keep with us will be waiting for you safe and sound until you're ready to take them back again. Make Space for the good stuff and move in online today or give us a call / send us a message to speak with one of our storage experts.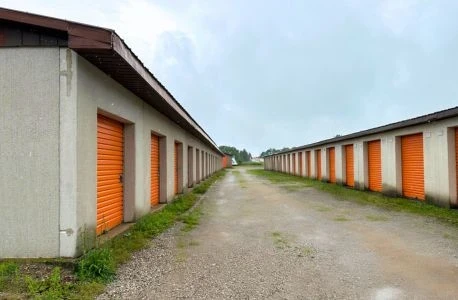 Storage for Moving & Renovations in Orillia
Planning on moving or doing some major renovations to your current home soon? We can help! Our self-storage lockers in Orillia are the perfect solution to storing your furniture or other valuables in a secure and heated environment to prevent them from being damaged during transit from your old home to your new one or while your current home is being renovated. Here are some of the other benefits of storing with us:
Declutter your home and make it more appealing to potential buyers or renters.
Protect your furniture, appliances, and other items from dust, dirt, and damage during the renovation process.
Save money and time by storing your items in one place avoiding multiple trips to transport your items to your new or renovated home.
We have a variety of sizes and features to suit your storage needs, such as heated, drive-up access, and 24/7 security.
You can access your items whenever you need them, with flexible rental terms and no long-term contracts.
If you have questions regarding our self-storage units for rent in Orillia, please feel free to contact us today or send us a message in our online chat to learn more about our great storage unit prices at our storage facility. Our representatives are happy to answer any questions you have and help you select the perfect storage unit to best match your unique present and future storage needs.