Self-Storage Units in Innisfail
Select Location:
Innisfail South
Innisfail North
Gate Hours
Everyday 7:00 am to 10:00 pm
Office Hours
Monday – Friday 9 am to 5:30 pm, Wednesday Closed, Saturday 9 am to 1 pm
Facility Address
1000 Cottonwood Road Innisfail, AB T4G 0H3
Contact Phone
Facility Address
1000 Cottonwood Road Innisfail, AB T4G 0H3
Facility Information
Office Hours
Monday – Friday 9 am to 5:30 pm, Wednesday Closed, Saturday 9 am to 1 pm
Gate Hours
Everyday 7:00 am to 10:00 pm
Available Storage Units in Innisfail
You are viewing units at our
Innisfail South
​ location
5X5
Online Rate From
$81/month
5X12
Online Rate From
$160/month
2ND MONTH FREE*
10X12
Online Rate From
$231/month
2ND MONTH FREE*
11X14
Online Rate From
$254/month
2ND MONTH FREE*
12X15
Online Rate From
$272/month
2ND MONTH FREE*
14X15
Online Rate From
$292/month
2ND MONTH FREE*
10X24
Online Rate From
$301/month
2ND MONTH FREE*
12.5X24
Online Rate From
$432/month
10X10
Online Rate From
$215/month
15X24
Online Rate From
$491/month
4X8
5X10
9X10
9X14
12X19
17X24
*Monthly rate is based on a 28-day billing cycle. 2nd Month Free offer is only available on select units and is subject to availability. Minimum four weeks rental required.
Testimonials
Hynek Drlík
Innisfail South
Lana Price-Lyons
Innisfail South
Karen Zehner
Innisfail North
Hemi2fast
Innisfail South
Sandy Granville
Innisfail North
Gordon Holland
Innisfail South
Vincent Travis
Innisfail South
Amber Woitt
Innisfail South
What's Near our Innisfail Facility?
Our Innisfail Make Space Storage facility is centrally located and is about 20 minutes north of Red Deer. We have safe and reliable self-storage units in Innisfail, to store your extra furniture, household items, equipment, tools, or business supplies. The facility location in Alberta, is ideal for those who are looking for affordable local self-storage that is about an hour north of Calgary. Self-storage units at our location are popular storage solutions for local businesses and individuals located in and around Innisfail.
24/7 Video Surveillance
We appreciate that security is essential to our customers. This is why we have around-the-clock video surveillance to ensure that all of our storage lockers at our facility are monitored at all times. Our Innisfail storage facility is also fully gated allowing our customers to relax, knowing that their belongings are being carefully watched and safely stored at our secure storage facility.
Accessibility
Customers can easily access their storage unit during our facility gate hours. We understand that being able to load and unload your storage locker during times that are convenient to your busy schedule is important. For this reason, our gate hours allows you to access your storage lockers at our Innisfail self-storage facility during weekdays and weekends between 7:00AM and 10:00PM.
The Most Affordable Storage
With our budget-friendly storage unit prices and reliable self-storage solutions in Innisfail, we can accommodate a wide range of personal and commercial storage needs and timeframes. From decluttering homes and workspaces to seasonal or temporary storage, we have affordable self-storage units at our facility.
Sizes
What do you need to store in your storage space? Whether you need one of our smaller 5X5 storage lockers or a larger 15X24 storage unit, we have lots of different sizes of storage lockers in Innisfail to suit your personal or business self-storage requirements. If you are unsure what storage unit size will best meet your requirements, please don't hesitate to give us a call. Our representatives are here to help you find a storage unit to best meet your precise storage needs.
About Our Storage Lockers and Facility in Innisfail
The Make Space Storage facility has affordable, flexible, accessible, and reliable storage in Innisfail, AB. Our self-storage spaces have several advantages, benefits, and uses for our customers. Here are some examples of the various ways people and businesses use our storage units:
Safe and secure storage spaces for people who are downsizing, renovating, relocating, or in need of some extra space in their homes
Commercial storage for surplus merchandise, office supplies, inventory, documents, tools and equipment for local businesses and contractors
A secure storage locker for your furniture, household items, or clutter that is currently in your yard, spare room, basement, garage, or home
Long-term and short-term storage spaces for your seasonal items, garden furniture, yard tools, snow tires, shovels, and more. You can rotate your summer and winter seasonal things creating more space and room in your home or office.
Our company has flexible, accessible, and budget-friendly self-storage options to accommodate your individual or commercial storage needs.
Are you looking for a convenient renovation or moving storage solution? Our storage spaces are perfect for those needing storage for their personal belongings while their home is being staged and in the process of getting ready for viewings or open houses. In addition, storage units are affordable choices for those with time between their closing date and the date of possession of their new home. Whether you are relocating, downsizing, moving, or renovating, utilizing a storage locker provides a flexible storage timeline. You can prepare your home and pack your belongings in a self-storage locker at your own pace.
Are you a contractor or have a company that needs storage for tools, small equipment or supplies? Our local self-storage lockers are perfect for a wide range of companies and people who are looking for flexible and secure storage for their business. If your company is short on space, then you should consider using our storage lockers to keep your tools and supplies safe and dry during the times that you are between projects, or that they are not needed. This way they will stay organized and in excellent condition and be ready for your next job or contract.
Do you want to declutter your life, home, or office without throwing out your most treasured possessions? Many people keep their extra stuff in one of our storage units instead of having to say goodbye to them forever. In addition, our customers often clear out seasonal things from their basement, garage, closet, bedroom, home, and yards to keep their residence organized and neat no matter the time of year. A great storage idea is to rotate or switch out these seasonal things twice a year so that you will never have to feel like your living space is cluttered with all the things you do not need that season. For example, many people decide to put into storage their skis, snowboards, winter or summer clothes, seasonal tires, bikes, camping gear, tools, small equipment, holiday decorations, gardening items, and extra furniture.
Does your local business need someplace to keep your excess products and supplies? Consider storing your merchandise, supplies, records, tools, and small equipment in one of our storage units. If you have event specific items or seasonal supplies for your company, you can keep them nearby in a storage space. This is a perfect way to declutter your workspace and optimize your office. In addition, using self-storage units can help you save time, space, and energy throughout your industry's busy and slow seasons. For example, you can store surplus items, seasonal merchandise, records or documents, and so much more in a self-storage unit at our facility.
Do you want a look inside our storage units and self-storage facility? Scroll up to get a look inside at the various storage spaces and benefits our Innisfail storage location has to offer our customers.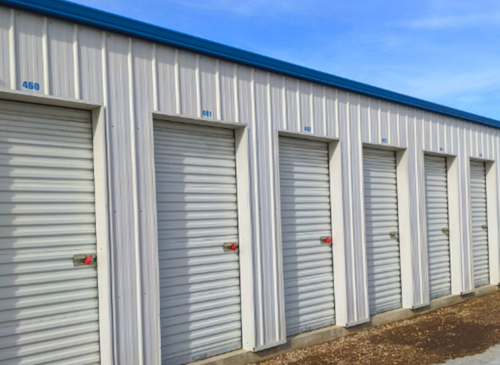 Storage Services
Make Space Storage Innisfail also has several additional moving and storage solutions. Here is a summary of some of the storage and moving services we provide at our Innisfail location:
Accessible storage lockers for your personal or business storage needs
Indoor parking spots for classic cars and vehicles within our storage and parking facility
Covered and uncovered outdoor RV and boat parking spaces at our facility
Packing supplies that can be ordered from our online store
Did you know we also have other storage facilities in Alberta including locations in Edmonton and Calgary? You can visit our locations page to find the closest self-storage near you. If you have any questions about our storage services or facility, you can learn more on our website or contact us today. Our Make Space representatives can help answer your questions. We can help you in selecting the perfect parking, moving, or storage solution that best meets your specific personal and commercial storage requirements and needs.