Self-Storage Units in Edmonton
Gate Hours
Monday - Saturday 8:30 AM to 5:00 PM
Office Hours
Monday - Saturday 8:30 AM to 5:00 PM
Facility Address
12235 149 Street NW, Edmonton, AB T5L 2J3
Contact Phone
Facility Address
12235 149 Street NW, Edmonton, AB T5L 2J3
Facility Information
Office Hours
Monday - Saturday 8:30 AM to 5:00 PM
Gate Hours
Monday - Saturday 8:30 AM to 5:00 PM
Available Storage Units in Edmonton
5X5
Climate Controlled
Indoor
Online Rate From
$114/month
2ND MONTH FREE*
8X10
Online Rate From
$127/month
2ND MONTH FREE*
8X20
Online Rate From
$183/month
2ND MONTH FREE*
5X5
Climate Controlled
Indoor
5' High
Online Rate From
$83/month
5X10
Online Rate From
$126/month
5X10
Climate Controlled
Indoor
Online Rate From
$154/month
8X20
Online Rate From
$215/month
2ND MONTH FREE*
8X40
Online Rate From
$285/month
2ND MONTH FREE*
4X8
Online Rate From
$111/month
5X15
Climate Controlled
Indoor
10X10
Climate Controlled
Indoor
10X10
8X10
*Monthly rate is based on a 28-day billing cycle. 2nd Month Free offer is only available on select units and is subject to availability. Minimum four weeks rental required.
Testimonials
Westchester Boxing
Edmonton
misiewicz konrad
Edmonton
What's Near our Edmonton Facility?
Make Space Storage Edmonton, Alberta facility shares a parking lot with Waggy Tails Doggy Daycare and is located across the street from the NAIT Patricia Campus and a few blocks away from CLAC Career Development Center, the Canada Post Mail Processing Center, and Costco. Our facility is conveniently located East of the Mitchell Industrial Area, between Yellowhead Trail and 118 Ave, right off 149 street. Our location is ideal for families and businesses residing in the neighbouring Dovercourt, Sherbrooke, and Woodcroft areas looking for affordable storage solutions. Make Space Storage's self-storage units are suitable for a wide range of businesses and individuals in Edmonton.
24/7 Video Surveillance
Keeping our storage units in Edmonton safe and secure is one of our top priorities. Make Space Storage facilities are fully gated and have around-the-clock, 24/7 video surveillance to ensure all of our storage lockers and on-site containers stay safe while being carefully monitored at all times. In addition, our facility has on-site managers available five days a week to provide any assistance you may need when loading or unloading your unit.
Accessibility
You can access your storage locker or on-site storage container located at our Make Space Storage Edmonton facility during our location's gate hours: weekdays (Monday-Friday) from 8:30 am to 4:30 pm. In addition, our self-storage in Edmonton is easily accessible right off 149 street, and we are sharing a parking lot with Waggy Tails Doggy Daycare.
Heated Units
Our storage units in Edmonton, AB, are heated and available in various sizes. The facility is climate controlled, meaning we keep the building at a similar temperature all year to ensure your belongings are not affected by harsh weather conditions and environments. When you choose to use indoor storage lockers which provide heated storage in Edmonton can prevent your items from warping or becoming damaged by cold temperatures. Some items that should be stored in a climate-controlled storage facility in Edmonton are electronics, antiques, photographs, expensive leather furniture, and things that are sensitive to fast-changing weather conditions and cold weather conditions.
Sizes
Our self-storage units come in various sizes at Make Space Storage Edmonton, Alberta, including smaller and larger sizes of storage lockers. We also have multiple sizes of on-site storage containers to meet all your various storage needs. So whether you are looking to store just a few things, the contents from your home, office supplies, small equipment, work tools or a vehicle, we can help you. Are you unsure what storage locker or on-site container size will work for your storage needs? Do not hesitate to give us a call and contact us today, and one of our Make Space Storage representatives will be happy to help you find the best storage unit size that works for your company or personal needs.
About Our Storage Lockers and On-Site Containers
Make Space Storage's Edmonton storage units provide a budget-friendly solution for many individuals and businesses. Our storage solutions near you in Edmonton have many uses, such as:
A safe place to store your tools, small equipment, inventory and business supplies

Storage for families and individuals who are downsizing

A safe place to store your belongings as you organize and declutter your home, office, garage, shed, basement, or yard

Indoor storage lockers for your items that need protection from cold winters and might be damaged by harsh weather conditions

Affordable storage for students going home for the summer

Summer seasonal storage for things such as lawn mowers, bikes, and gardening tools

Winter seasonal storage for items such as shovels, snowboards, skies, and snowblowers

Temporary and short-term storage for the times when you are in-between moving locations, have excess inventory, or undergoing renovations
Whatever your personal or commercial storage needs, Make Space Storage has affordable, accessible and flexible storage near you.
Are you a local business running out of space to store equipment, extra inventory or supplies? We have a solution for you, with multiple size options available to cater to your storage needs. In addition, you can store seasonal items such as furniture, seasonal inventory and decor, extra supplies and much more in one of our secure storage lockers in Edmonton.
Are you looking for a convenient moving storage solution? Our storage lockers are ideal for those needing to store their personal belongings while their home is staged for showings. Storage units also are an affordable option for those who have a gap between their closing date and the date they take possession of their new home.
Does your company need affordable storage for tools, small equipment or supplies? Our containers are ideal for industrial, construction, renovation and contracting companies looking for safe and secure storage. If your company is short on space, consider using our Edmonton self-storage on-site containers or storage lockers for your extra supplies and seasonal commercial storage.
Are you looking to declutter your life without getting rid of your treasured possessions? Many residents in nearby areas store their extra belongings in one of our Make Space Storage Edmonton storage units instead of throwing them away. In addition, you can clear out seasonal items from your basement, garage, storage closet, spare bedroom, and yard to keep your home neat and organized. You can rotate or switch out these seasonal items twice a year, and you will never have to feel like your home is cluttered again with all of the things you do not need that season. For example, many people decide to store their skis, snowboards, bikes, camping equipment, tools, holiday decorations, and extra furniture in their storage units.
Do you want a look at our Edmonton facility? Then, scroll up to get an inside look at the great features Make Space Storage Edmonton offers!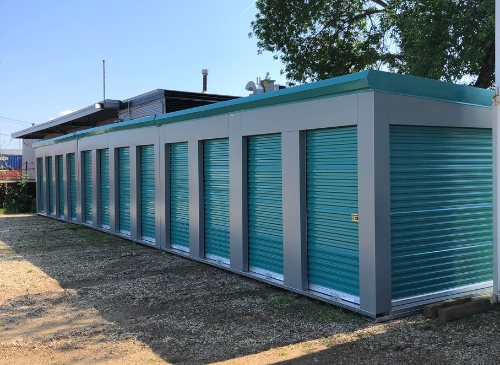 Storage Services
Our storage facility in Edmonton, Alberta, has a wide variety of moving and storage solutions to meet your needs:
Indoor storage lockers inside our climate-controlled heated storage facility

Easily accessible on-site storage containers

Secure mobile storage container rentals for residential and commercial storage

Packing supplies for moving and storage
Whether you need to rent a single small storage unit or multiple on-site containers, Make Space Storage rentals always offers budget-friendly pricing. Our storage and moving company often has the most affordable storage option for people without enough space in their homes, offices, or businesses. You can avoid keeping clutter and seasonal items in your home or scrambling to find a larger storage warehouse for your business by reserving a storage unit online. Feel free to contact us today and get a custom quote tailored to your specific storage rental needs. Our representatives are happy to help answer all of your self-storage and portable container storage questions. For more information, you can click here to view our portable storage containers in Edmonton and packing supplies.