Self-Storage Units in Belleville
Gate Hours
6:30am – 11:00pm everyday
Office Hours
Monday - Friday 8:30am – 4:30pm
Facility Address
335 Bellevue Drive, Belleville, Ontario
Contact Phone
Facility Address
335 Bellevue Drive, Belleville, Ontario
Facility Information
Office Hours
Monday - Friday 8:30am – 4:30pm
Gate Hours
6:30am – 11:00pm everyday
Available Storage Units in Belleville
5X5
Online Rate From
$101/month
2ND MONTH FREE*
5X10
Online Rate From
$118/month
2ND MONTH FREE*
5X15
Online Rate From
$136/month
2ND MONTH FREE*
10X10
Online Rate From
$160/month
2ND MONTH FREE*
10X15
Online Rate From
$225/month
2ND MONTH FREE*
8X20
Online Rate From
$236/month
2ND MONTH FREE*
10X20
Online Rate From
$254/month
10X25
10X30
20X20
15X30
20X30
*Monthly rate is based on a 28-day billing cycle. 2nd Month Free offer is only available on select units and is subject to availability. Minimum four weeks rental required.
Testimonials
Chelsea Hanson-Casey
Belleville
Alicia Bezaire
Belleville
Elaine Fournier
Belleville
Shannon Gerryts
Belleville
Brittany Penney
Belleville
What's Near Our Belleville Facility?
Are you looking for a reliable storage facility in the Belleville area? Make Space Storage Belleville is an excellent option for people looking for high-quality storage in their area. Our facility is located directly north of the 401, parallel to the highway, accessible off of exit 538 on Bellevue drive. In addition, we are a short 5-minute drive to Belleville's city center, where you can find the Quinte Mall, Shoreline Casino, Parkdale Community Center, Walmart, Riverside Park and many other local businesses. Our convenient location and superior customer service make us the ideal storage solution for residential and commercial customers in the Belleville area and surrounding neighbourhoods.
24/7 Video Surveillance
The main concern we hear from customers across Canada is related to the safety and security of keeping their belongings in a storage facility. The Make Space Storage facility in Belleville is fully gated and requires an access code to open the gate upon your arrival. Our facility is also equipped with 24/7 around-the-clock camera surveillance to ensure each storage locker and parking spot are monitored at all times. With our state-of-the-art security measures, you can rest assured that your items are safe and sound.
Accessibility
Customers can access our Belleville storage facility from 6:30 am to 11:00 pm on weekdays and weekends. All Belleville self-storage units are drive-up lockers, providing an easy unloading and loading experience to all of our customers. Drive-up storage units are great for storing heavy items such as tools, equipment and large furniture. These drive-up units can also be used as indoor storage for classic cars and smaller vehicles. Many of our customers choose self-storage lockers to store classic cars because of their affordability when compared to indoor car storage facilities.
Affordable Storage Units
At Make Space Storage, we understand that finding reliable and cheap storage units can be a challenge. That is why we offer a variety of storage units to meet your needs, budget, and timeline. Whether you need a single small locker for your seasonal items or multiple large units for business inventory, we have a solution for you. To make things even easier, you can reserve your unit online and avoid last-minute scrambling to find a safe place for your belongings. Contact us today to learn more about our affordable self-storage solutions near you in Belleville, Ontario.
Sizes
Are you tired of tripping over boxes in your home or running out of room to keep your seasonal gear? We have just the thing if you are looking for a place to store your items. Our Belleville location offers a variety of self-storage units to meet your needs. We have small 5X5 units for storing a few smaller items, 10X10 lockers for larger items or seasonal gear, and 20X30 storage lockers for when you need to store the entire contents of your home or office. So whether you are looking for a place to keep your holiday decorations or simply need a little extra space, we can help.
About Our Storage Lockers and Facility in Belleville
Our self-storage units provide budget-friendly storage unit prices and solutions for many families, individuals, and businesses. In addition, our units are often used by people who need accessible and flexible storage lockers in Belleville to meet their various short-term, long-term, temporary, and seasonal storage needs. Here are some examples of the different ways our storage units are frequently used:
Trustworthy storage for your possessions while you are away for work or other reasons
Secure storage for furniture, books, decorations, vehicles, and other belongings
Storage for inventory, office supplies, small tools and equipment for businesses
Safe storage for homeowners who are purchasing, selling, or moving houses
Summer storage for items such as bicycles, beach things, garden furniture and tools
Winter storage spaces for your things such as snowboards, snow tires, and snow shovels
No matter the length of time for your storage needs, our self-storage facility has affordable storage solutions near you in Belleville, Ontario.
Are you required to be away for long periods of time for work? If you are looking for safe and secure storage space for your belongings, look no further than our facility. Our storage units are perfect for those who are going to be away for extended periods of time for work or other reasons. Our facility offers a wide range of storage options to meet your needs, whether you are gone for a few weeks or months at a time. We have storage units of various sizes to accommodate the contents of your home, your vehicles, extra items, and tools.
Have you ever been looking for a specific tool or piece of equipment, only to realize that it is buried under a pile of other stuff? If your home or office is short on storage space, it can be challenging to keep things organized. Our facility's various storage in Belleville is the perfect solution for people who need accessible and secure storage for their tools, small equipment, or supplies. Whether you are working on a home improvement project or renovating your office, our lockers will help you keep your possessions safe and within easy reach. So if your home or business needs some extra storage space, consider using our Belleville storage units.
Are you buying, selling, or moving homes and in need of flexible storage and moving solutions? For homeowners planning to sell their property, finding reliable and affordable moving storage options can be challenging. At our company, we offer a variety of storage lockers that are perfect for homeowners who need to store their personal belongings while their home is being staged and prepared for viewings or open houses. In addition, our storage units can be a valuable asset for those buying or selling a home, as they can help save time and simplify your strategy while you are between your old residence's closing date and the new home's possession date.
Do you need somewhere to store your seasonal belongings during the winter and summer months? As the seasons change, so does our need for certain things. Bulky winter coats and snowshoes make way for light jackets and sandals. Beach umbrellas and pool floats are replaced by rakes and leaf blowers. However, most of us do not have the luxury of infinite storage space in our homes. As a result, many of us are forced to cram our seasonal items into closets, basements, and attics, creating a cluttered and disorganized home. Self-storage units provide an excellent solution for those who want to declutter their homes without getting rid of their seasonal clothes, tools, equipment, and toys. Our Belleville storage lockers are clean, dry, and secure, providing the perfect environment for storing your seasonal items.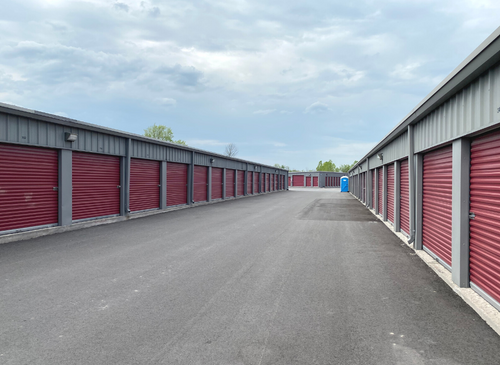 Storage Services
We have multiple moving and storage services at our Make Space Belleville location:
Accessible drive-up storage units at our self-storage facility
RV, trailer, motorcycle, vehicle, and boat parking spaces at our secure facility
Packing supplies which can be ordered online for your convenience
You can learn more about our RV and Boat parking spaces and packing supplies in Bellville, Ontario, on our website or by calling us today. Our Make Space representatives can answer your questions and help you find the perfect self-storage that matches your precise needs and requirements. Our company has other storage facility locations and service areas all over Canada. In addition, we have other locations and facilities which provide self-storage in Ontario and other provinces across Canada. You can see all of our Make Space Storage locations on our website.