Our First Annual Customer Appreciation Day Brought Out Crowds Across Canada
2023 June 22
Written by Make Space Storage
On Saturday, May 27th, the first annual Canada-wide Make Space Storage Customer Appreciation Day brought crowds out from the West Coast all the way to Ontario.
With 17 events held across the country, our facility managers put up the tents, blew up the balloons, and opened the gates to celebrate the core of our business – our customers. It was a day of discounts, games, prizes, treats and more! These events were so well received by our customers that we can't wait to celebrate them again next year.
With events in communities across Canada, each facility put its own special spin on the day but with one common goal – acknowledging the importance of our customers. At all these events our facility managers had the opportunity to connect with and thank our current customers and meet a few new faces.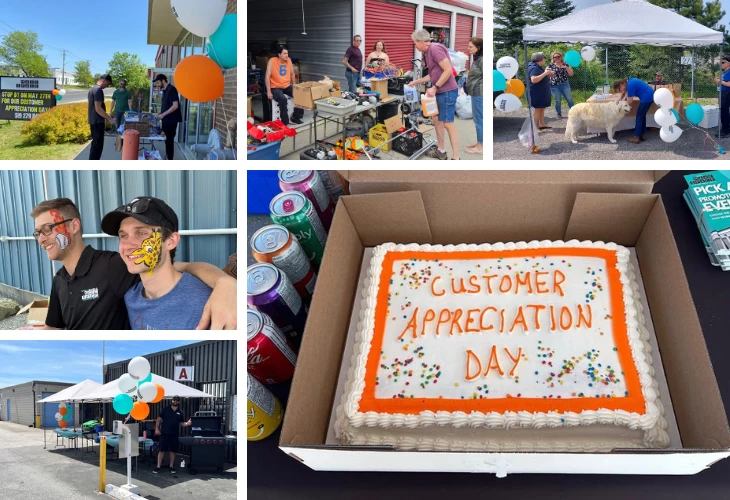 The first 50 people at each event received a scratch-and-save card, giving a 5-25% discount on their next month's rental fee. Snacks, treats, drinks and freebies kept guests chatting throughout the day until the big finale – at each location, one winner was chosen to win a FREE year of storage.
That's right - 17 people across Canada are now enjoying an entire year of storage – absolutely free.
Most locations also hosted a community garage sale, a great opportunity for current customers to open up their lockers and make some space while making a little cash. We had garage sales from Vancouver to Ottawa and from as north as Prince George, BC to as south as Windsor, Ontario. And at all the locations that held a garage sale, we upped the ante by giving away a FREE barbeque!
As expected, the weather didn't cooperate at every single event, but that didn't stop the crowds from coming out and celebrating. Here is how it went from coast to coast:
Prince George, BC
At our largest event of the day over 300 people joined our Prince George Team at our Hartway Drive location. Make Space Storage has four locations in Prince George so it was no surprise that this event brought out a great group of fun-loving customers. Our wonderful team set up a candy guessing game and colouring stations for the kids and challenged adults to a punch game – with prizes and discounts to be won. Tenants from all four facilities were invited to participate in the community garage sale. So much fun was had that customers can't wait for the next event – so much so they've requested more than one a year!
Port Coquitlam, BC
Down south near Vancouver our Port Coquitlam location also hosted a garage sale throughout their facility – but with a twist. This state-of-the-art location is a multi-floor building with units on all floors. You might think this would have made a garage sale more challenging but no – a map of participating units allowed shoppers to complete their very own treasure hunt. If you caught this event, you might have run into CEO Terry Thomas who thanked, celebrated, and treasure hunted with customers and their families.
Alberta
In Alberta, events were held in Edmonton, Innisfail, and Calgary. A break in the wildfire smoke allowed our Alberta team to celebrate and socialize with customers. Over tea, coffee, chips and treats our team members and guests chatted about all things storage and more. The community garage sale in Edmonton brought out treasure seekers, treasure sellers, and one lucky barbeque winner.
The Prairies
Our Saskatchewan locations bore the brunt of bad weather, but they didn't let a little tornado warning get them down! Regina customers braved stormy skies to check out the community sale. The extreme weather did put a damper on the community barbeque held in partnership with Sports Venture Ranch Ehrlo but our team was still honored to be able to partner with this important local organization. Ranch Ehrlo Society is a non-profit organization that operates group living, clinical, family, community, and educational programs across Saskatchewan. We look forward to raising even more donations for them next year!
Events in Prince Albert and Estevan also looked a little colder and damper than hoped but that did not stop customers from coming in to get their scratch-and-save discounts, a bite to eat, and to have a chat with our amazing facility managers. These events also hosted community sales and each of them rewarded one weather-tested customer with a free barbeque – good for warming up those chilly hands!
Further east, Winnipeg's giant collectables and garage sale started off with a huge crowd right at opening. This crowd of almost 100 truly knew that the early bird gets the worm. From vintage cameras and silverware to board games and comic books, this was a community sale for all ages and interests. Customers were so excited to participate that we've already had multiple requests to join in again next year.
Ontario
Eight of our Ontario locations joined in the fun of Customer Appreciation Day this year. From craft shows to fundraisers our Ontario locations showed off their strong community ties.
In Kitchener customers and guests perused craft vendors while snacking on chips, pop, and treats. If you passed by our Arnprior location, you might have seen all the furry friends who joined in on the fun. And in Pembroke over 100 people came to shop the garage sale, enjoy some treats and chat with our team.
Our Grimsby team blew out the candles on a celebratory cake shared by customers young and old who came to check out the community sale. And speaking of cake, our event in Windsor takes the cake for most donations raised for local organizations with funds going to Erie Wildlife Rescue and the Windsor/Essex Humane Society.
Whether they came out to get their face painted like their favourite animal at our Carleton Place location, or to chow down on gourmet local cupcakes at our Belleville location, we hope that all our customers enjoyed a day of celebration. From discounts to doughnuts, our Customer Appreciation Day was filled to the brim with our gratitude to all our customers across the country.
Are you looking for a storage solution? We can help you with any of your storage needs!
Make Space Storage has self-storage facilities across Canada along with portable storage container rentals, boat and RV parking, and even packing supplies.
And we can't wait to celebrate you at next year's Customer Appreciation Day!
Check out our website or contact us to learn more about our storage solutions and services or click here to find a Make Space Storage facility near you!