Choose From 2 Self Storage Facilities in Estevan
Select Location:
Gate Hours
6:00am - 7:00pm Everyday
Office Hours
8:00am - 4:30pm Tuesday - Friday, 8:00am - 12:00pm Saturday
Facility Address
462 Devonian Street, Estevan, SK
Contact Phone
Facility Address
462 Devonian Street, Estevan, SK
Facility Information
Office Hours
8:00am - 4:30pm Tuesday - Friday, 8:00am - 12:00pm Saturday
Gate Hours
6:00am - 7:00pm Everyday
Available Storage Units in Estevan
You are viewing units at our
Devonian
​ location
6X12
Climate Controlled
Indoor
Online Rate From
$166/month
10X10
Online Rate From
$142/month
2ND MONTH FREE*
9X12
Online Rate From
$142/month
10X12
Online Rate From
$160/month
2ND MONTH FREE*
12X12
Online Rate From
$172/month
10X16
Online Rate From
$166/month
2ND MONTH FREE*
13X25
Online Rate From
$295/month
20X20
Online Rate From
$354/month
6X8
Climate Controlled
Indoor
Online Rate From
$130/month
9X10
Online Rate From
$156/month
10X20
Online Rate From
$189/month
12X22
Online Rate From
$260/month
13X20
Climate Controlled
Drive-Up
Online Rate From
$390/month
13X24
Climate Controlled
Drive-Up
Online Rate From
$415/month
7X9
8X12
8X13
Climate Controlled
Indoor
11X13
Climate Controlled
Drive-Up
12X16
12X18
12X20
12X24
15X20
Climate Controlled
Drive-Up
5X8
Climate Controlled
Indoor
12X14
Climate Controlled
Indoor
*Monthly rate is based on a 28-day billing cycle. 2nd Month Free offer is only available on select units and is subject to availability. Minimum four weeks rental required.
Testimonials
Korlan Kassembayeva
Lamoro
Ralf Kasperson
Port Coquitlam
Vincent Travis
Innisfail South
Elaine Fournier
Belleville
What's Near Our Estevan Facilities?
Are you in search of a dependable storage solution near you in Estevan? Look no further, we have two self-storage facilities in Estevan, one on either side of the city. We have one storage facility on Lamoro street and a second self-storage facility on Devonian street. Our locations provide our customers with convenient options no matter where they are located. Whether you need to store household items, tools, or even an RV, our facilities are secure and easily accessible, catering to all your storage needs.
24/7 Video Surveillance
At Make Space Storage, we understand the importance of keeping your possessions safe and secure. That is why we have implemented top-notch security measures at our Estevan facilities, including 24/7 video surveillance, to ensure constant monitoring of all storage units, storage containers, and parking spots. We are committed to providing the highest level of security for our customers, regardless of whether they require short-term or long-term storage, so you can trust that your belongings will be safe and sound with us.
Accessibility
At our Estevan self-storage facilities, customer convenience is a top priority. Our facilities are accessible to customers during our gate hours, from 8:00 am to 4:30 pm, on both weekdays and weekends. To make loading and unloading even more hassle-free, some of our storage units are drive-up lockers. These units are perfect for storing heavy items such as books, tools, equipment, and large furniture. They can also be used as indoor storage for classic cars and smaller vehicles, providing a safe and secure space for your valuable items.
Heated Units
When it comes to storing items that are sensitive to temperature fluctuations, it's important to ensure they remain safe and secure, even under extreme weather conditions. One solution is to use climate-controlled, heated self-storage lockers within a temperature-controlled facility. Our heated lockers provide the necessary protection for a variety of valuable items, such as artwork, antiques, furniture, and electronics, from damage caused by temperature, humidity, and weather changes.
Sizes
Do you find yourself struggling to navigate around boxes, tools, and clutter in your home or workspace? Make Space Storage offers a solution for those in need of storage space. Our Estevan locations have a range of self-storage unit sizes, including small, medium and large units, that can cater to your storage needs. Whether you are looking to store extra furniture and tools or you are downsizing and need extra space, we can accommodate your short-term, long-term and seasonal storage needs.
About Our Storage Lockers and Facilities
Our convenient, accessible, and budget-friendly storage lockers in Estevan are often utilized by both individuals and businesses that require extra storage space. Our storage units can be used in a variety of ways; here are some common examples of how our storage lockers are used:
Storage solutions that provide dependable and secure options for contractors and business owners to store inventory, office supplies, small tools, and equipment
Individuals who are downsizing, buying, selling, or moving homes can have peace of mind knowing their belongings are safely stored at our facilities
Your furniture, books, decorations, vehicles, and other personal items can be kept safe in our secure and easily accessible storage lockers
Convenient summer storage options for camping gear, bicycles, beach items, outdoor furniture, and gardening tools
Winter storage solutions for snow tires, shovels, winter gear, and snowboards to keep them protected during the colder months
Our facilities in Estevan, Saskatchewan, offer a wide range of budget-friendly storage solutions tailored to meet your specific needs, whether you require short-term or long-term storage.
Are you in need of cost-effective storage options for your tools, small equipment, or supplies? Our lockers provide the perfect solution for individuals and businesses looking for convenient and secure storage. Whether you are facing space constraints at home or at work, our storage lockers are ideal for storing tools, small equipment, supplies, projects, or seasonal items. Our units are frequently utilized by staging companies, plumbing and electrical companies, and contractors in the Estevan area.
Are you in the process of buying, selling, or moving homes and require adaptable storage and moving solutions? Finding reliable and cheap self-storage in Saskatchewan can be challenging for homeowners looking to sell their property or relocate. We offer a wide range of storage spaces that are ideal for individuals needing to store personal belongings while their houses are being cleaned, staged, and prepared for open houses and viewings. Furthermore, our Estevan storage units can help those buying or selling a home by saving time and simplifying the transition between closing dates and possession or move-in dates of new residences.
Are you undergoing a renovation or facing space limitations in your home or office? Self-storage lockers offer versatile options for storing spare furniture, personal items, decorations, tools, clothing, and even vehicles for the duration you require. Whether you need temporary storage during a renovation or a long-term solution for your possessions or business inventory, storage lockers are the perfect solution for your needs.
Are you struggling to find a place to store your seasonal items throughout the year? As the seasons change, so do our storage needs. Heavy winter coats and snowshoes are replaced with lighter jackets and sandals, and gardening tools take the place of beach umbrellas and pool floats. However, not everyone has the luxury of ample storage space in their homes. This can lead to cramming seasonal items into wardrobes, basements, spare bedrooms, garages, sheds, and attics, resulting in a cluttered and disorganized home. Our self-storage units offer an excellent solution for those looking to organize and declutter their homes without having to discard any of their winter or summer clothes, tools, equipment, and toys. Our Estevan storage lockers are clean, dry, and secure, providing the ideal place to store your seasonal items.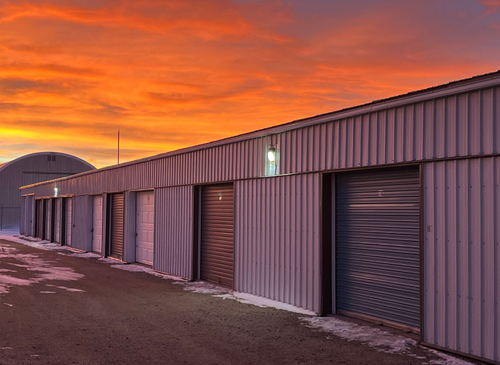 Storage Services
Our Make Space Storage Estevan facilities offer a wide range of moving and storage solutions for local business owners, families, and individuals living near our storage facilities in Saskatchewan. Our top-notch moving and storage services include:
Convenient drive-up self-storage lockers that make loading and unloading lockers easy
Climate-controlled storage units to keep your items protected from cold temperatures
Portable storage containers for moving and storage at your home, office, or worksite
Parking spaces to store your RVs, boats, trailers, and vehicles at our facilities
We have an online store that sells moving and packing supplies
You can avoid last-minute stress by easily reserving one of our Estevan self-storage units online anytime. If you are uncertain about which size or type of storage unit will best suit your needs, our Make Space representatives are available to assist you. Contact us online or by phone, and we will be happy to answer any questions you may have about our self-storage units, portable storage options, parking spaces, and self-storage facilities in Estevan, SK.