Business & Commercial Storage Solutions
Business storage is a service that aims at making your operations easier. Simple self-storage or cost-effective and convenient portable storage can be used to store tools, supplies or inventory.
Special rates and promotional discounts for bulk orders apply.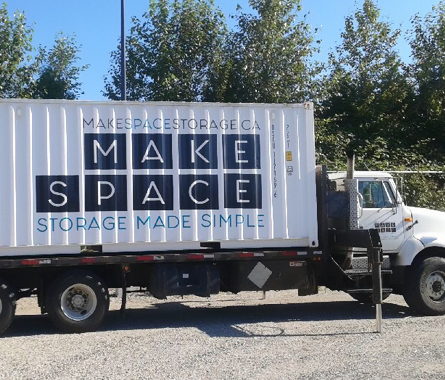 About Business Storage
Whatever you need to store, we can find the best option for your needs. If it's just a number of tools that you are going to need in three months, self-storage for business might be the best option. Just drop them at our storage locker and have peace of mind knowing they are safe.
If you have a whole bunch of inventory and supplies that you need to move from one place to another, or you want to store all of it securely on a temporary work site, or you need more room at the shop while having a chunk of unused land in the back - portable container might be your best option.
Get a quote or request a callback and let's find that unique and price-effective storage solution that will benefit your business and make your life easier.
Industries
Construction
All your construction site needs can be covered with our portable storage containers that are great for storing tools and inventory or as mobile offices (modified containers).
Retail
Seasonal or year-round portable storage for retail business needs. Increase your revenue by freeing up some merchandising space at an affordable cost.
Restoration
We can respond to urgent requests when your restoration business needs extra space to work on houses damaged by natural disasters or other causes.
Industrial
For mining, oil and gas, forestry or power worksites, we have enough storage containers to cover your storage needs and help you with the logistics if required.
Hotels
Safe and clean storage for a hotel furniture, equipment or accessories. When you plan renovations, portable container storage is a great help at low cost.
Schools & Universities
While taking valuable space, some supplies and equipment might not be needed often. Instead of stacking it in a closet, let us take care of storing stuff for you.
Festivals & Events
Any event needs a whole lot of equipment, furniture, decorations and other things. All of it can fit well in a portable container that we'll deliver right when you need it.
Restaurants
Seasonal storage for your patio furniture, making space for your renovation process or storing your older equipment posted for sale. And our containers are always clean.
Why your business needs extra storage
We know that running a business is time consuming, we want to offer you our expertise to speed up the process. Both commercial self-storage and portable storage can be a great option for your business based on what your needs are. Tell us your challenges withspace, and we will come up with the most cost-effective solution. Fill out the quote form or request a call back to get it going.
Still Have Questions?
Please fill out our contact form and we will get back to you as soon as possible! We are always happy to share what we know and help you find the best solution to match your storage needs.